SSJD COVID-19 PROTOCOL NOTICE:
We require that all guests be double vaccinated and wear a mask while at the Convent.
RETREAT UPDATE
We are happy to announce that we are welcoming in-person guests to the convent!

As of March 9, 2022, the Guest House and Convent will be open for individual private retreats for a limited number of guests. For more information, or to book a stay at the guest house contact the Guest House at guesthouse@ssjd.ca.
Our Food for the Soul Quiet Days and Retreats are currently only available online. See the Food for the Soul page for retreat listings.
How to Register: Find the retreat or course you desire to attend from the offerings below and click the "read more" button. The registration form is below the retreat/course poster.

Please note that some retreats may have a registration limit. If so, those who were previously registered for these retreats will be given priority.
Food for the Soul Refund/Cancellation Policy:

Quiet Days/Retreats
30 days before event:    Full refund
15 days before event:    50%
7 days before event:      25%

Courses: Full refund before 2nd class

SSJD will cancel retreats/quiet days without a minimum of 10 registrants and make full refunds.
Do you have questions regarding retreats or courses? Please contact the Guest House at 416-226-2201 ext. 305 or email us at guesthouse@ssjd.ca.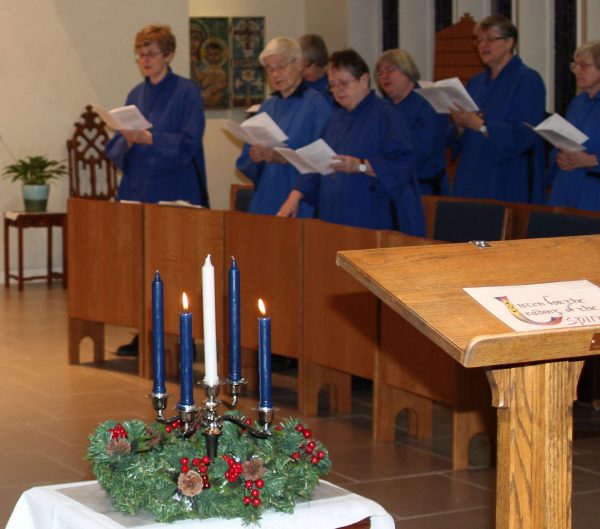 Mark your calendars! Join Bishop Riscylla Shaw as she leads this year's in-person Advent Quiet Day on November 26, 2022. The Quiet Day theme, registration form and other details will be posted closer to the
Read More »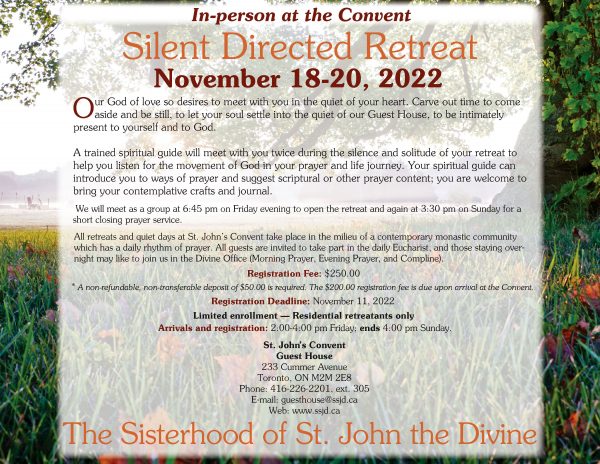 Retreat Format: In-Person at the Convent Dates: November 18- 20, 2022 Registration Fee: $250.00 * A non-refundable, non-transferable deposit of $50.00 is required. The $200.00 registration fee is due upon arrival at the Convent. Registration Deadline: Nov
Read More »