SSJD COVID-19 PROTOCOL NOTICE:
Mask-wearing for guests and visitors is now optional, until further notice.  Guests and visitors will be screened for symptoms (cough, sore throat, etc) when arriving.  We strongly encourage updated COVID vaccinations.


Food for the Soul Refund/Cancellation Policy:

1) Quiet Days/Retreats
30 days before event:    Full refund
15 days before event:    50%
7 days before event:      25%

2) Courses: Full refund before 2nd class.

SSJD may cancel retreats/quiet days without a minimum of 10 registrants and make full refunds

Do you have questions regarding retreats or courses? Please contact the Guest House at 416-226-2201 ext. 305 or email us at guesthouse@ssjd.ca.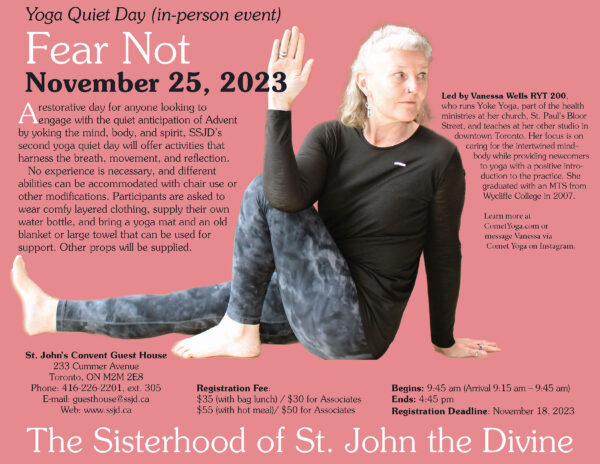 Retreat Format: In-PersonDate: November 25, 2023Registration Fee: $35 (bring your own bag lunch)/ $55 (hot lunch); $30 (Associate bring your own bag lunch)/ $50 (Associate hot lunch) Registration Deadline: November 18, 2023 Led By: Vanessa
Read More »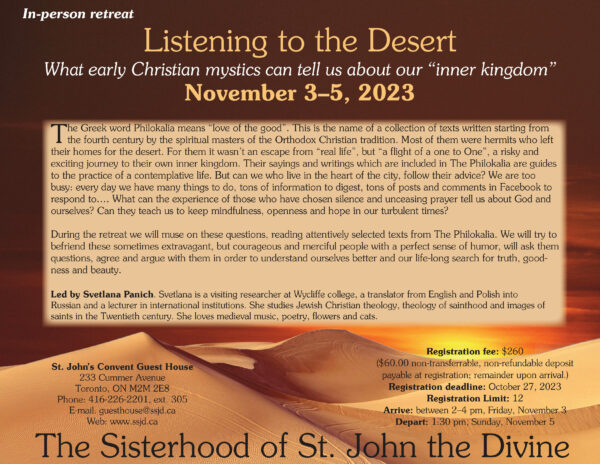 Retreat Format: In-PersonDate: November 3-5, 2023Registration Fee: $260.00. A $60.00 non-transferrable, none- refundable deposit is payable upon registration. The remainder is due upon arrival at the convent. Registration Deadline: October 27, 2023 Listening to the
Read More »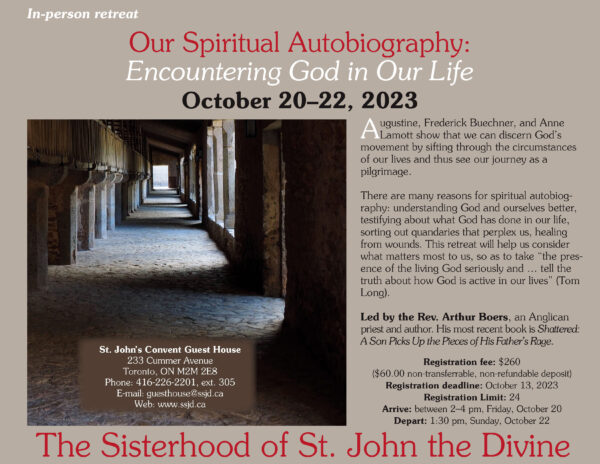 Retreat Format: In-Person Date: October 20-22, 2023 Registration Fee: $ 260.00. Registration Deadline: October 13, 2023 Augustine, Frederick Buechner, and Anne Lamott show that we can discern God's movement by sifting through the circumstance of
Read More »