Sister Doreen's Reflections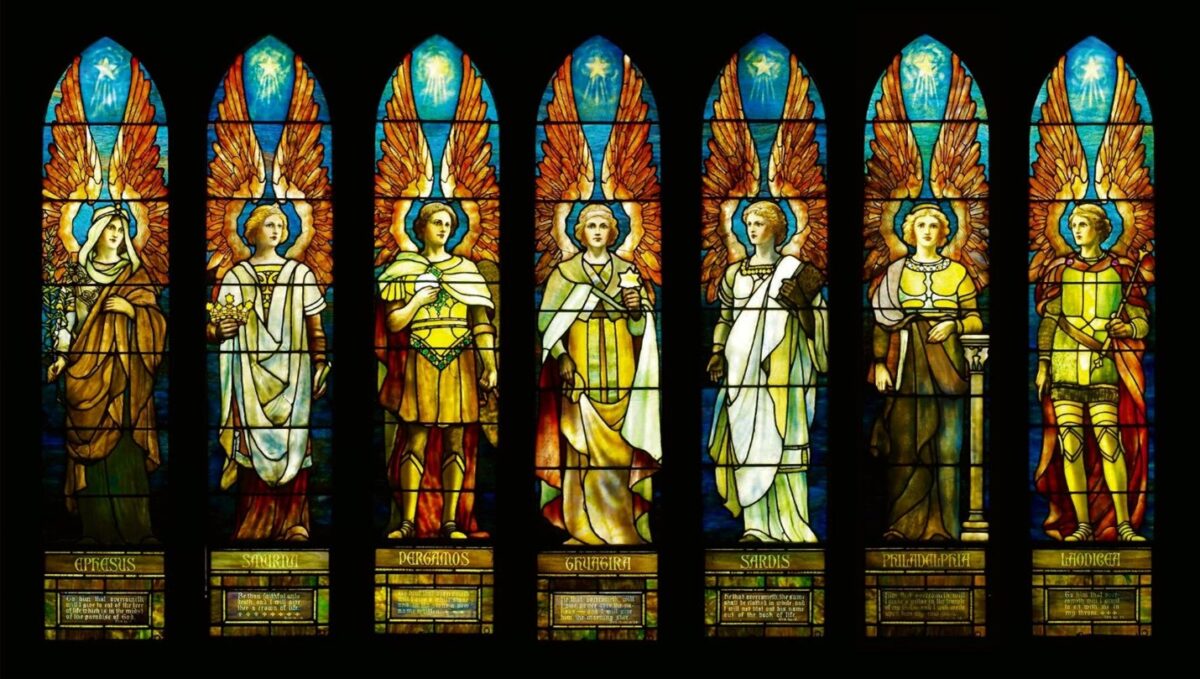 This spring, during May, I had the privilege while on holiday in British Columbia, of visiting Associate in Vancouver and on Vancouver Island. While in Victoria, we had a meeting of Associates in Christ Church Cathedral in their Chapter Room. That room is resplendent with seven stained glass windows of the seven angels from the Book of Revelation. I have experienced this splendour and had some profound reflections on them before, when living some years ago in Victoria in our SSJD branch house, St. john's House. This visit, this time, seeing these angel windows again, reawakened for me my own musings fresh and new.
I thought I would share my musings over this and the next seven weeks, a summer time pondering that I hope will be for me a rich journey, and perhaps one that others might also find helpful – both reassuring and challenging, claiming God's gift from each of the 7 different angels, and also working to accept the challenge they hold also, as any gift given to us is meant to be and do. We sometimes shy away from the Book of Revelations, intimidated by its scary and demonic creatures. Taking time to read the Book of Revelations can also be one of the most spiritually uplifting experiences. Taking these angels out of the attic, introduce us to astonishing beauty, affirmation, and good advice, and that is how the Book of Revelation begins!
The pictures that I will use in each of the seven individual reflections, however, will be ones taken by the Rev Canon William Morrison from the windows in the Chapter Room of Christ Church Cathedral, Victoria, BC.
In the Book of Revelation, there are seven angels hanging around the seven churches mentioned. "Write in a book what you see and send it to the seven churches, to Ephesus, to Smyrna, to Pergamum, to Thyatira, to Sardis, to Philadelphia and to Laodicea." (Revelation 1:11) And so the author of that book, John, writes a message from God to each church beginning his message with "To the angel of the church …." to the messenger, the angel, the elder in the church or I thought, the one in any circumstance, that protects, encourages, challenges and cares for those around them.
Angels, gift giving angels from a gift giving God in the Book of Revelation that introduces us to a mysteriously colourful, and important portrait – the unchanging realities upon which our faith relies in any period of history: God's promise to be with us, to protect us, and to save us – the knowledge that I and all of us and all this world are God's. This lies at the foundation of our confidence in God. This is the victorious message, the ground of all believing. God's faithfulness is unshakable. God's love is the pilot light of our own love, and it is never going to go out, even when or more especially when, we think that it has gone out for us in difficult times.
These next weeks, then, will be spent dusting off some of the angels in the attic, laying hold of challenges, discovering gifts, and reflecting on the ache for God that lives in every heart. God's love is the pilot light of our own love … and it's never going to go out: it is God's ache for us, God's longing for us that awakens and nourishes our longing for a deeper relationship with God, with ourselves and with each other. The great gift we must bring to this ache is both our frailty – poor, weak, fragile – and our splendour – created in the image and likeness of God, the beloved of the Beloved. Macrina Wiederkehr in her book "A Tree Full of Angels" calls us the little-great ones, frail dust, remember, you are spendour.
In Hosea 11: 3-4 we read of God's deep love and longing for us: "Yet it was I who taught Ephraim to walk, I took them up in my arms; but they did not know that I healed them. I led them with cords of human kindness, with bands of love. I was to them like those who lift infants to their cheeks. I bent down to them and fed them … how could I part with you, … how could I give you up?"
I really believe all of life wants to lead us into the ordinary things and experiences, indeed there in the ordinary to find the angels of God. Holiness comes wrapped in the ordinary, in the incredible gift of the ordinary. I believe that glory comes streaming from the table of ordinary life, but we can only experience this is we are willing to unwrap the ordinary, accept the challenge and the gift, by staying with it long enough to harvest its treasure. Will I be too blind to see the holy in the ordinary because I am too busy? Am I too busying with my own agenda to let God's agenda bless me? Do I remember the words from scripture (Hebrews 13:2) "Remember to welcome strangers into your homes. There are some who did that and welcomed angels without knowing it."
Angels are everywhere in our world; whenever and wherever we see unselfish caring, kindness and goodness, there we also see the graciousness of God, and underlying, the presence of angels as God's messengers, carrying for you and for me undersongs of new meaning for our lives. When we are talking about angels we are talking about communication at the deepest level between God and ourselves: with the ear of our heart, in our prayer and stillness, in our times of quiet and reflection and through deep insights that come from time to time.
When Christmas carols fill the air and our worries regress into a temporary whirl of holiday nostalgia, everyone believes in angels. But it's harder to accept the likelihood that the "multitude of heavenly hosts" on that long-ago Bethlehem hillside has relevance in our lives too, that God's promise to send angels to protect and rescue us is a faithful pact, continuing for all eternity, throughout every season of the year. I do believe that they remain quietly present in our lives, if we stop in the midst of our daily everyday life long enough to notice that we are standing on holy ground – if we allow the angels out of the attic and take the time to dust them off!
Angels don't submit to litmus tests, testify in court, or slide under microscopes for examination. Their existence cannot be 'proved' by the guidelines we usually use. To know angels requires, perhaps, a willingness to suspend judgement, to open ourselves to possibilities we've only dreamed about. "The best and most beautiful things in the world cannot be seen or even touched. They must be felt with the heart." (Helen Keller). They can become our dear and loving companions … if we are willing to allow them into our lives. They leave us with the indescribable wonder and the warm assurance that God is holding us gently in the palm of God's hand.
At every Eucharist we sing or pray that we "with angels and archangels and the whole company of heaven" … over these next weeks I would like us to take those angels out of the attic, dust them off, and see what an incredible opportunity for us could be. And to do this we will go into the Book of Revelation … and the beginning letters to the churches, one angel at a time!