Sister Doreen's Reflections
"Into your hands I commend my spirit" (Luke 23:46)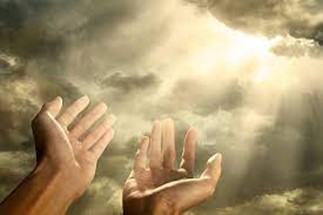 From the Tree of the Cross Jesus spoke words of healing, seven important qualities we all need if we are to help complete God's vision for humanity: in this seventh word spoken from the Cross for healing: LOVE'S SURRENDER
As we come to this last word of healing spoken from the tree, we see that from the tree on the barren hill, the fury of every destructive power founders on the power of God's unquenchable love for us. We stand on holy ground as we hear Jesus healing words – My Abba God, Into your hands … here we hear the inner reflection of Jesus – I give myself – surrender myself to your love. I know with the deepest confidence that I am always in a loving connection with God. For us, what a healing gift – to be invited to be held in the loving hands of God.
For I am certain of this: neither death nor life, nor angels, nor principalities, nothing already in existence and nothing still to come, nor any power, nor the heights nor the depths, nor any created thing whatever, will be able to come between us and the love of God, known to us in Christ Jesus our Lord. (Romans 8:38-39)
Here we see with deep confidence that we are always in a loving connection with God. Here we dare to step into the center, kneel down and let ourselves be held by a compassionate God whose tenacious love will never let us go. Here we are invited into the hands of God. It is the place of light, the place of truth, the place of love. It is the place where I so much want to be, but am so afraid of being. It is the place where I will receive all that I desire, all that I ever hoped for, all that I will ever need, but it is also the place where I have to let go of all the I most want to hold on to. It is a place beyond earning, deserving, and rewarding. It is the place of surrender and complete trust.
"To have courage to let ourselves be embraced when we are sinful and bitter is to know a God who is both a blessing father and a caressing mother, who sees with the eyes of the heart, and who, despite our weaknesses and angers, sits completely relaxed, smiling, with a face like a marvelous symphony. That symphony, which is always evident in God's face, is the future to which all of us, and our earth itself, can look forward." (R Rolheiser – Holy Longing)
Max Lucado of spoke of the seventh words as "Father, Jesus smiles weakly, it's over, take me home. And so Jesus died like a child falling asleep in his Father's arms."
"Into your hands" –
as we pray for the presence of God, we are already in the presence of God
as we seek to find God, we are already found by God
At the centre of ourselves, the God we are seeking is seeking us.
God is the reason we can reach God.
God is not something to be achieved, something to compete for, something a secret formula discovers, something rewarded for moral achievement.
"Into your hands" – it is growing to realize that God is already in our lives. God is with us for the taking! Waiting for us! "Into your hands" – healing words of strong spirit, deep prayer, and vibrant faith.
I would like to quote from Max Lucado's book "No Wonder they call Him the Saviour". About these words "into your hands":
Were it a war – this would be the aftermath.
Were it a symphony – this would be the second between the final note and the first applause.
Were it a journey – this would be the sight of home.
Were it a storm – this would be the sun, piercing the clouds.
But it wasn't.  It was a Messiah.  And this was a sigh of joy.
This last word is a testimony to what life is about – life is a prayer of communion with God, a prayer of confidence in the power of God, and a prayer of dedicating each new day to a life of loving compassion and confidence in God. This last word holds out for us the healing gift of saying into your hands God, my God I am yours for time and eternity. It is that deep life-giving surrender which gives birth to new and abundant life.
In many ways throughout the scriptures, we hear that: the joy that is mine, I give to you, that your joy may be complete; and my peace, I give to you..; and God breathed on them, and said, receive the spirit...
And in giving us these gifts, we are told to go into all the world and proclaim to all people.
These seven last words – healing words weave together seven important qualities we all need if we are to help complete God's vision for humanity – fullness of life for ourselves and for everyone in the world:
mutual forgiveness
bringing to everyone a bit of the fullness of life
valuing each personal relationship
maintaining faith and trust that God's work will get done, despite all the diminishments that befall us
thirst and longing for the success of God's project
the confidence that we are accomplishing in our lives on earth what we were meant to accomplish
the deepest confidence that we are always in a loving connection with God.
These are qualities that envision humanity's future on earth requiring of us more than just a life of avoiding sin.  This is a call for a life of action – perhaps even daring action – for God and for the work God wants to accomplish on earth.  These are the qualities that are needed for healing – these are the healing gifts of God.  These seven last words of Jesus can be summed up in Jesus prayer to God that we say: "Your kingdom come, Your will be done on earth …"
Which of the seven words from the Cross seemed to speak most for you?