By the Rev. Joanne Davies.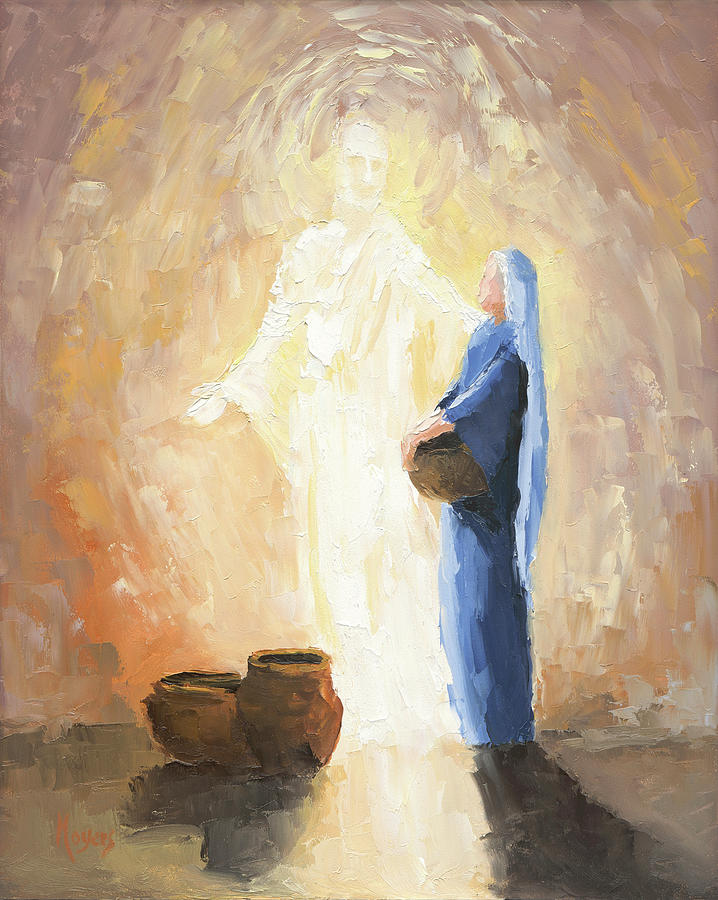 Do not be afraid, Mary, for you have found favour with God. And now, you will conceive in your womb and bear a son, and you will name him Jesus. He will be great and will be called the Son of the Most High, and the Lord God will give to him the throne of his ancestor David.
How did Gabriel arrive with this message or as I have been reflecting, how does Mary appear to Gabriel? Did Gabriel come half-hurtling in -wings waving, stirring up the dust dramatically? Was Gabriel luminous? Or perhaps Gabriel, the archangel who reflects Sophia, the wisdom of God, and stands at the left hand of God, found the encounter with Mary stirred something within their angelic existence that was new, revealing Gods love lit in this young woman. The luminosity belonged to Mary.
Listen to Gabriel's annunciation as known through the poet Jan Richardson…
For a moment
I hesitated
on the threshold.
For the space
of a breath
I paused,
unwilling to disturb
her last ordinary moment,
knowing that the next step
would cleave her life:
that this day
would slice her story
in two,
dividing all the days before
from all the ones
to come.
The artists would later
depict the scene:
Mary dazzled
by the archangel,
her head bowed
in humble assent,
awed by the messenger
who condescended
to leave paradise
to bestow such an honor
upon a woman, and mortal.
Yet I tell you
it was I who was dazzled,
I who found myself agape
when I came upon her—
reading, at the loom, in the kitchen,
I cannot now recall;
only that the woman before me—
blessed and full of grace
long before I called her so—
shimmered with how completely
she inhabited herself,
inhabited the space around her,
inhabited the moment
that hung between us.
I wanted to save her
from what I had been sent
to say.
Yet when the time came,
when I had stammered
the invitation
(history would not record
the sweat on my brow,
the pounding of my heart;
would not note
that I said
Do not be afraid
to myself as much as
to her)
it was she
who saved me—
her first deliverance—
her Let it be
not just declaration
to the Divine
but a word of solace,
of soothing,
of benediction
for the angel
in the doorway
who would hesitate
one last time—
just for the space
of a breath
torn from his chest—
before wrenching himself away
from her radiant consent,
her beautiful and
awful yes.
Mary simply says 'yes' to God and risks all the consequences. She says yes and reassures an Archangel, 'Let it be'.
Mary's response has an unlimited depth of Stability – the fidelity to stay put within God's call, even if the possibilities seem dim and unknown, God's wisdom guides her.
She declares herself open to God's unexpected intervention in her life.
Her Obedience is the recognition that she is God's. Yet she must be the one to say yes to being as God knows her.
Conversion of life is expressed by Mary as an openness to growth in holiness. She has a focused commitment to follow God's lead, a holy life that might even risk her baby. Mary has a strong balance of stability to give her the focus. Altogether, her way of being will lead Mary to growth in mind and spirit. It is no wonder Gabriel is dazzled.
God's call to us usually comes in more subtle ways than an Archangel arriving before us.
 I think the question is, how do we respond. It might seem God is turning our lives upside down. Asking for an openness to something that seems impossible. A conversion of a whole life. God might come through the familiar daily routine of our lives and commitments, asking us to see holiness and growth in our mortality. Mary teaches us we can be fully present and shimmer with the indwelling of God. Startling even to Archangels. Blessed and Beloved of God. "Let it be with me according to your word.'
With thanks to Rosalind Brown, Denise Levertov and Jan Richardson