Sister Doreen's Reflections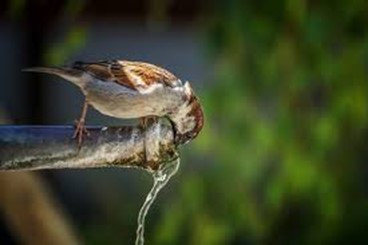 "I am thirsty" (John 19:28)
From the Tree of the Cross Jesus spoke words of healing, seven important qualities we all need if we are to help complete God's vision for humanity: in this fifth word spoken from the Cross for healing: LOVE'S PRIORITIES
Jesus in pain and loneliness looking at the people around the cross says to them – to us – I Thirst: physically and spiritually. It was a real physical thirst which was quenched by the vinegar. But these words are so much bigger than just a dry mouth! These words are deeper and more profound. I believe that this fifth word from the Cross speaks "I Thirst" on behalf of each one of us , holding out a healing word for companionship with God and for companionship with humankind – for shalom – the peace, wholeness, justice and healing – amongst all peoples. In these words we see a deep interdependence of the physical and spiritual thirst for wholeness – individually and corporately. These words hold out a great truth: physical needs are important – in the care of our bodies, in the care of others around us … we have physical needs – "please give me something to drink"; and also we have spiritual needs, a hunger and thirst after God, after righteousness, after peace, after companionship and communion – "please give me something to drink".
This fourth word from the Cross demonstrate a tremendous love, a zealous love for humankind – a reaching out. In this he presents us with a new and indescribable nearness. As God delighted in the goodness of creation – and when God finished all the work that he was doing, he saw that it was very good – so too God delights in the dawn of a new creation. God desires reconciliation and true peace among people, health and wholeness for everyone, and harmony in the created order. From the cross the words: "I thirst" – express the great need that God had, and still has today. "For surely I know the plans I have for you, says God, plans for your welfare and not for harm, to give you a future with hope." (Jeremiah 27:11) Yes, God thirsts for me, God thirsts for us, God thirsts for the world and all creation.
We know that in our own human experiences there is an inner thirst for companionship, with each other and with God – a thirst that is deep down inside and is always there. All of us were born with a thirst for companionship with God. One thing that has always impressed me, as I meet people from all walks of life, is that no matter how mean, how bad or sinful a person may be, deep inside there is a thirst for companionship. It's in all of us.
So many in our world experience this miserable thirst – day after day, week after week, with this thirst unquenched. Many go for years – all their life – never satisfied with life, going from pillar to post, from job to job, place to place, friend to friend, and change to change thirsting, thirsting, thirsting; never satisfied, never truly happy. They are searching for something – they don't know what.
St. Augustine's comment that "our hearts are restless until they rest in God" formulates the deep human experience that tells us there is an inner thirst for companionship with each other and with God. It's there deep down inside and will always exist.
It is when our lives are fragmented in the hopeless effort to serve too many gods and honour too many priorities that we are coerced and not free. It is when we are driven to meet too many expectations and manipulated to meet too many standards, that our lives become an endless chore with no important satisfaction anywhere. This fifth word speaks into this condition the words "I thirst" – for our companionship, for our knowing the love that is ours, for a joint responsibility to slake the thirst – both physical and spiritual in each other.
Nelson Mandela is his book "The Long Walk to Freedom" writes: Whatever we knew, whatever we learned, we shared, and by sharing we multiplied whatever courage we had individually. That is not to say that we were all alike in our responses to the hardships we suffered. But the stronger ones raised up the weaker ones, and both became stronger in the process.
All of us were born with a thirst for companionship, with each other and with God, and these words reaffirm the sacredness of the human person – our wholeness as a physical and spiritual person created for fellowship, for companionship with each other, and thereby also with God.
In these fifth words from the Cross we hear "whenever you give someone a drink of water in my name, you do it for me!" And it will lead us to be concerned with the problems of human society: hunger, poverty, injustice, cruelty, exploitation, and war. So these words become a cry of triumph – and a cry of challenge to us: they are not easy words nor are they easily spoken. We are not to strive through life untroubled by hopes and fears. I thirst – within ourselves and all around us – in responding to this cry of triumph and challenge: we meet God. A cup of water to the suffering in war, to the despair of refugees, to the piteous faces of children, the undernourished, the homeless, the lonely and afraid. These words indicate a duty and a privilege to try to do whatever I can in the immediate situation in which I find myself. We may from time to time want to run away, to close our ears and our eyes for it all seems too much … and yet, we here these words "I thirst".
We carry God with us, or rather, wherever we go God carries us, and we do not know it!
"I thirst" are words that go far beyond replenishment to a deep healing. This word allows us to stand back, to catch our breath, to cast a contemplative eye at the world in which we live, and ease into gratitude and graciousness. To do our little bit wherever we are. It allows us to recover from the sometime profound weariness that simply being can produce. These words, in which our scars, wounds, pains – and those of the world – can lay bare and be set in the healing warmth of love's priorities and compassion. These words offer us the opportunity to travel farther and farther into the depths of the God who like the prodigal father, waits with open arms to welcome us into his heart.
God's way to healing was to cry out to us, about ourselves and about each other – "I thirst" … I thirst for you – the healing compassionate recognition of our human condition and its tremendous possibilities. Help me and let me help you – love's healing priorities in life. "I thirst" is the deep cry and the deep promise of companionship with God.
"I thirst" is a deep cry of need – and a deep cry of promise; does this evoke any fresh thoughts for you?
Where do we hear these words in ourselves? In our communities? In our world?