Sister Doreen's Reflections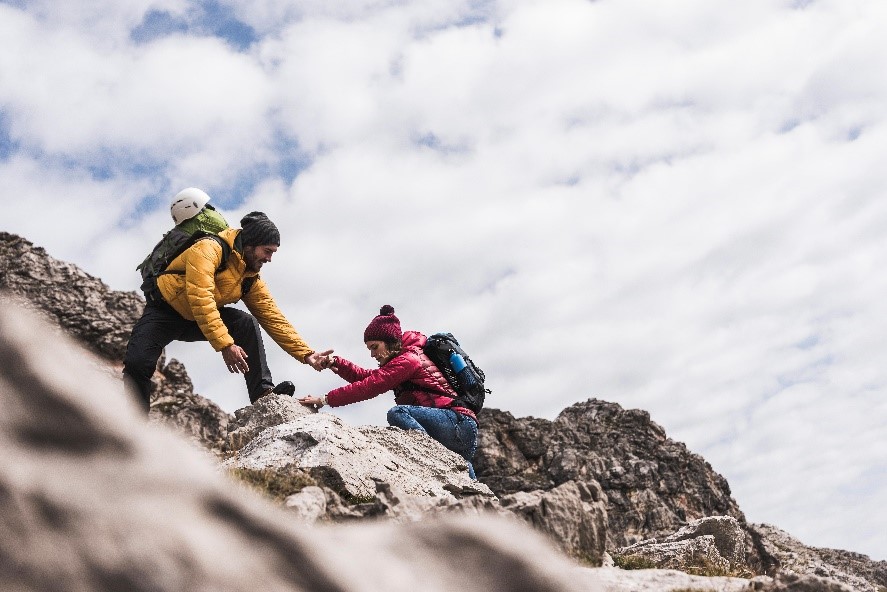 "There's a day coming when the mountain of God's House will be THE MOUNTAIN – solid, towering over all mountains. All nations will come towards it, people from all over set out for it. They'll say, 'Come, let's climb God's Mountain, go to the House of the God of Jacob, where we will be shown the way God works, so we can live the way we're made' … God will settle things fairly between nations, God will turn their swords into shovels, their spears into hoes. No more will nation fight nation; they won't play war anymore. Come, family of Jacob, let's live in the light of God." (Isaiah 2: 1-5)
This, it seems to me, is an invitation to everyone who is willing to embrace the adventure of the ascent of God's mountain! How I long to climb God's mountain, to be shown the way God works, to learn to live the way I am made! It's a quest to the summit of all we can be, and all we truly are, a step by step process requiring reflection and preparation. While this invitation may be deeply personal, it is also communal. Like mountain climbing, no mountain pilgrimage can be private or a solitary exercise, as only a fool climbs a mountain alone! And we will need tools, allies, and insights to turn the challenge into an adventure and to enhance the joy of the journey.
Mountain tops have always had a central place in the spiritual life, in spiritual growth, when we begin a conscious quest for God, when we 'lift up our eyes to the mountains and ask the question, from where will my help come? And when we acknowledge that my help comes from God who made heaven and earth' (psalm 121).
In fact in the bible at least 26 different specific mountains mentioned, all of which are settings for God's revelation of God's presence, and of God's journey with us. Their sheer height, ruggedness, beauty, and overwhelming sense of solid rock – when I encounter the natural geography of these mountains and then look at my own human endeavours and achievements, I am filled with the question, 'what is more remote, more unapproachable, more immoveable than a mountain, they are so big and solid and I am so small and vulnerable ?' They have a massive show of power, ancient, solid, imposing, and they seem to permit only the most minimal human imprint. They wear a stunning succession of ecospheres, from forests and high meadows to scrub bush and sheer rock adorned with perennial snowfields. At high altitudes, air becomes thin. Large mountains are a presence so phenomenal they create their own weather systems. There is about a mountain a real sense of equanimity, no matter what is going on around it, the mountain is still the mountain – a sense of inner balance, remaining a mountain in the midst of all the turmoil that might be going on around it.
So, I said to myself, when confronted by a mountain issue or circumstance on my own spiritual journey, have I done enough reflection on whether I am prepared for such an expedition? I know it doesn't depend on age or health but the real issues lies within my heart – am I willing to invest myself fully in this great adventure? Deep in my heart I know that if I say 'yes' it will be accepting a gift from God, a new bond with God. It is extravagant, it is unprecedented, it is what I long for, it is what we all need, and it will cost everything that I have and am! I know it will be a difficult climb, it will feed some deep need within me for the abandonment of control and the acceptance of God's love in absolute, total grace.
Like any mountain expedition, this journey will be one that I have to travel as lightly as possible. Excessive baggage on an expedition such as this is a drawback and will make the journey more difficult. I know it will be a serious journey into my heart where I will need to struggle to accept forgiveness of all that might hold me back in being reconciled to others and God, where I will have the greatest challenge: the forgiveness of myself. Henri Nouwen in one of his books wrote: "it calls me to keep stepping over all my arguments that say forgiveness is unwise, unhealthy, and impractical. It challenges me to step over all my needs for gratitude and compliments. Finally, it demands of me that I step over that wounded part of my heart that feels hurt and wronged and wants to stay in control and put a few conditions between me and the one whom I am asked to forgive. This stepping over is that authentic discipline of forgiveness. Maybe it is more climbing over than stepping over. Often I have to climb over the wall of arguments and angry feelings that I have erected between myself and all those whom I love but who so often do not return that love. It is a wall of fear, fear of being used or hurt again. it is a wall of pride, and the desire to stay in control. But every time that I can step or climb over that wall, I enter into the house where God dwells, and there touch my neighbour with genuine compassionate love."
The mountain of God brings into question all claims to power, challenges every human structure, reaches beyond the present failure of justice, war and violence. It exposes our spiritual poverty and cuts through all false conceptions we might have of the holy. Each stone I climb so that everyone has a right to a decent wage, working conditions, food, housing and health care brings me closer to becoming the hands of God – it is true that in this mountain climb wildness holds answers to more questions that I yet know how to ask. It was St John Climacus who said: "keep running athlete … and do not be afraid.
Each steep, sharp rock that I encounter in my life, as I struggle with myself and God to climb over that rock, I have experience that a hard climb done with the healing power of mountain silence – something that Elijah encountered in the cave when communing with God, has enabled my own discernment to sharpen and my own contemplative vision to crystallize. But only after I have done the hard work of climbing and enduring the rigours of the ascent.
The magnificent, yet inaccessible mountain, is a symbol of our deep longing for the beatific vision. We want to see the ordinariness of our lives transformed into glory, lifted up to clear view on the horizon of our world, like a snow-capped mountain shimmering in the morning sun. We want our climb to move us into equanimity, to an evenness of mind especially under stress. Like the equanimity of the mountain, it will be the ground for wisdom and freedom, and it will be the protector of compassion and love. Once at the summit, the way back leads another way of a new day, a new way of living.
I believe I will travel this journey over and over again, as life is a succession of mountains and valleys: of peaks and valleys.