Sister Doreen's Reflections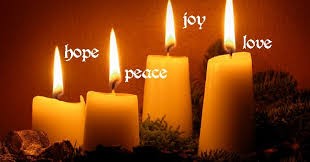 Come! Wait with me! Love is coming into our world!
And God calls us out of darkness to walk in the light!
"My beloved friends, let us continue to love each other since love comes from God, everyone who is born of God and experiences a relationship with God. The person who refuses to love doesn't know the first thing about God, because God is love – so you can't know God if you don't love. This is how God showed love for us: God came into the world so we might live in God. [God made God's home in us] This is the kind of love we are talking about – not that we once upon a time loved God, but God loved us. … if God loves us like this, we certainly ought to love one another."
(1 John 4:7-10)
"Let me give you a new command: Love one another. In the same way I loved you, you love one another. This is how everyone will recognize that you are my disciples – when they see the love you have for one another." (John 13:34-35)
This is the last Advent candle. It is called the "Bethlehem Candle" or candle of love. This candle reminds us of the love that God shows for us through Jesus. The Bethlehem candle reminds us of the journey and the waiting that Mary and Joseph did as they prepared for the arrival of Jesus. This candle calls us to wait in love. In waiting we are called to contemplation and action. We are actively called to love one another. As we light this candle, I ask for an open heart to receive love graciously and to reflect it to the whole world.
Mother Teresa of Calcutta said: "At this Christmas when Jesus comes, will there be found a warm heart? Mark the season of Advent by loving and serving each other with God's own love and concern."
As we light this last Advent candle, it is a promise that is perceptible evidence of God's love for humanity – "for God so loves the world." In the chaos and uncertainty of our times, God's love continues to lead forward. It is an inclusive, tenacious love, a love that will not let us go. It is our call, our anchor, and our certain guide.
As we light this last Advent candle, we are reminded of Jesus' costly love for us and our call to be followers, disciples of that same good news.
As we light this last Advent candle, we celebrate God's love for us, a love which is a gift, a gift from God whose love for us bids us love with that same love, indeed to become the hand of God in the heart of the city, the world, and all of creation.
I share the following prayer/poem from one of the Advent candle-lighting services we have used at the convent:
"Love is the heartbeat of God, listen to the rhythm.
Joy is the gift, catch the rhythm.
Peace is its results, live the rhythm.
Be drawn into the kingdom of God.
Imitate the love shown us in Jesus.
Be drawn to love as you are loved.
Love is the heartbeat of God – listen to the rhythm."
It is so true that in the darkness of waiting, of a future that often feels precarious and unsure, God's deep love for us does help provide a way forward, a way to navigate through the uncertainty, encouragement to live out the certain promise of the here, but not yet kingdom of God. This Bethlehem candle of Love invites us to not only love God and each other, but also to join in, become co-creators of the here, right-now Kingdom of God by living out the truth of God's love for us by generously loving others and all of creation.
We are part of God's love story. We are called to wear God's love. To show it forth to all God's people. It is a love story that is for all people, everywhere, in whatever circumstances and places in their lives and for all of creation. This love candle asks the question: what areas of your life do you feel God inviting you in to participate in loving others and all creation?
A poem by John Harvey: "You are Deeply, Deeply Loved":
On this night of the year, a voice is speaking – can we hear it?
'I know the cares and the anxious thoughts of your hearts.
I know the hard times you often give yourselves.
I know the hopes and ambitions that you have for yourselves and for others.
I know your doubts, too – even while you seek to express your belief.'
On this night, I want to find a way of saying to you:
'You are deeply, deeply loved, just as you are,
Forgiven, loved and challenged to be the very best you can be.
So I'm speaking to you in the only way I know how –
From a stable, in a child born into poverty, soon to grow to maturity,
born to show you, in a human life, the love of God.'
Advent calls us to love in the promise that God is calling us to greater things and will be with us as we live them.