Sister Doreen's Reflections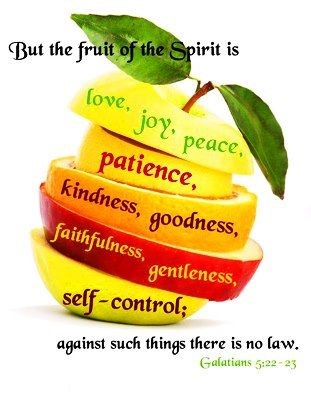 The Fruit of the Spirit (Galatians 5:22-23):
"By contrast, the fruit of the Spirit is love, joy, peace, patience, kindness, generosity, faithfulness, gentleness and self-control."
It is interesting to note, and I found myself taking an opportunity for some interesting reflection when noting that there is ONE fruit of the spirit, if we carefully read Galatians 5:22-23 as Paul introduces this section. I have come to think of this as one fruit with nine different flavours! A smile came with a picture of V-8 juice and also a soup recipe we sometimes have here at the Convent – 5 vegetable tomato soup! I am sure that you can find similar smile thoughts when considering the 9 flavours of the fruit of the Spirit!
When the 9 attributes or qualities are present, or when we realize that some of them are more present than they used to be, we begin to know that the Holy Spirit is at work in our lives. As we reach out to the God who is always reaching out to us, calling us and waiting for us with arms open to receive us, so the fruit of the spirit can grow in our lives. It is not we who produce the fruit of the spirit, they are gifts from God, but it is our openness to God – that hard work of letting go and letting God that enables these different qualities of the spirit to grow in our lives.
There is a wealth of reflection as we ponder the gifts that God gives as we try to live in accord with God. I offer just a few reflections on the 9 characteristics of the fruit of the Spirit, offered to spark your own reflection and prayer:
Love – to love God, to love self, and to love each other.  This is agape or caritas that seeks the highest good for others, regardless of their behavior. The gift of love is a choice, is active, based not in what we feel, but rather what we do.  It is self-sacrifice, putting others' needs before our own.  As l Corinthians 13: 4-7 puts it: "Love is patient, love is kind. It is not jealous, is not pompous, it is not inflated, it is not rude, it does not seek its own interests, it is not quick-tempered, it does not brood over injury, it does not rejoice over wrongdoing but rejoices with the truth. It bears all things, believes all things, hopes all things, endures all things." Joan Chittister called it "regal respect, royal reverence, and total support", something that requires total commitment to the well-being of the other as well as to ourselves. It is our openness to God that allows the Spirit to work in us, knowing that God loves us and enables us to show love to others.
Joy – our joy comes from God, and it is an active choice of attitude – it is more than simply an emotional reaction to our circumstances, it is deeper than happiness.  In a very real sense, each day we have an invitation – each day I choose joy!  It was Henri Nouwen who said: Joy does not happen to us. We have to choose joy and keep choosing it every day." The gift of this characteristic is choice, the joy we feel has little to do with the circumstances of our lives and everything to do with the focus of our lives. We rejoice as Psalm 71 puts it: "Each step I've made, you've strengthened me. Your loving arms have held me close, enfolding me. So even now I'll sing my way to journey's end." (L. Bauman's translation) We can rest in the comfort, make the choice, because we know the faithful companionship of God, the source and choice of our joy, no matter the circumstances.  I know that sometimes my joy is the source of my smile, but sometimes my smile can be the source of my joy.
Peace – that comes from knowing God and knowing "Goodness is stronger than evil, Love is stronger than hate, Light is stronger than darkness, Life is stronger than death, Victory is ours, victory is ours, through Him who loves us." (Desmond Tutu) and in Jesus words: "I have told you this that you might have peace in me.  In the world you will have trouble, but take courage, I have conquered the world – John 16:33). Peace, Shalom brings with it the idea of wholeness, completeness, tranquility in the soul that is unaffected by the outward circumstances or pressures. Peace comes as a gift when we begin to realize that there is something that the Spirit has to teach us in everything we do and in everything we experience – when we are rejected, when we are afraid, when we are lonely, when we are threatened by differences, when we are consumed by happiness and fulfillment: it is openness in all of our experiences to the goodness of God.  This is the peace, the taking honest measure of myself, that enables a quiet to settle in, a peace that nothing can destroy. It was Mother Teresa who said "If we have no peace it is because we have forgotten that we belong to each other."
Patience – this mirrors God always patient with us – the hard work of learning to live together with differences. We read in Colossians 3:12-13 "Put on then, as God's chosen ones, holy and beloved, heartfelt compassion, kindness, humility, gentleness and patience, bearing with one another and forgiving one another, if one has a grievance against another; as God has forgiven you, so must you also do." Sometimes words like longsuffering and endurance can surface when we are in a situation where we are struggling to remain patient! There are no quick fixes in life, and we find it hard to trust in the slow unfolding that this gift of the Spirit holds out to us. This is a quality that makes us stop and ask a question: what does this problem, circumstance, experience have to teach me? It calls us to actively enter into life, it calls for discipline, for hard work, for staying with, living through, listening carefully as we struggle with practicing patience and forgiveness. It opens us to be available to others. It give us the opportunity to look to God who is always welcoming us with open arms, welcoming us to come home into arms ready with a loving and forgiving embrace. Herein lies our strength in reaching out to others.
Kindness – God's kindness calls us to be kind, looking beyond our interests to the interests of others. It often requires going out of our way or setting aside things that may seem important, calling us to be compassionate, considerate, sympathetic and gentle. It is also an opportunity of learning not to be vindictive, of returning evil for evil, but instead turning the other creek, and extending a hand of goodness whether we feel the recipient deserves it or not. "And be kind to one another, compassionate, forgiving one another as God has forgiven you in Christ." Ephesians 4:32. It calls for empathy, for trying to know what each of us is going through so that we can embrace each other in compassion. Kindness reminds us that we are not alone, and it also helps us to open ourselves to receive kindness. If we cannot receive, we will never fully understand kindness, compassion.
Goodness/Generosity – bless others, care for others, bring good things into their lives. It is about being honorable and charitable, willing to share all that has been given to us. This sharing is something that needs to happen both out of our abundance and out of our need – it creates a vulnerability that opens us to the gift that the Spirit is offering us. "Each must do as already determined, without sadness or compulsion, for God loves a cheerful giver. Moreover, God is able to make every grace abundant for you, so that in all things, always having all you need, you may have an abundance for every good work." Corinthians 9: 7-9. In a real sense this characteristic is asking us to be ourselves and to do something in our own time that has value, to be generous, to be responsible, to bring others and the world one step closer to that fullness of life that God offers. It is a call to make a difference, through our goodness, our generosity to make God's world new again for each other.
Faithfulness – God will never leave us or forsake us, a faithful God who is always faithful to us, enables our faithfulness.
Sometimes as we go about our simple tasks of daily life we can easily feel that they have no importance, but it is in the small acts of faithfulness that we do each day that brings about the gift from the Spirit. "the one who had received two talents also came forward and said, 'Master, you gave me two talents. See, I have made two more.' His master said to him, 'Well done, my good and faithful servant. Since you were faithful in small matters, I will give you great responsibilities. Come, share your master's joy." Matthew 25:22-23 There is a quality of trustworthiness about faithfulness, someone who can be relied upon.
Gentleness – this is a characteristic that is best translated as power and strength under control. Gentleness gives life, and in a real sense it is a call that is in contrast to the disorder and selfish conduct of the world around us. It is a way of showing God's love to those who are walking in darkness. It is the one gift that also comes with an invitation to learn to rest in God, to develop that quiet and empty space of keeping company with God. "for where jealousy and selfish ambition exist, there is disorder and every foul practice. But the wisdom from above is first of all pure, then peaceable, gentle, compliant, full of mercy and good fruits, without inconstancy or insincerity." James 3: 16-17
Self-Control – of thoughts and actions, probably the most difficult characteristic to cultivate for most of us! I imagine that most of us have at least one area in our lives where we most often succumb to our desires. This is a call to the difficult task of self-control, one that means really believing what it says in 2 Timothy 1:7 "For God did not give us a spirit of cowardice but rather of power and love and self-control." We need to remember that with God nothing is impossible! Perhaps in the midst of trembling regarding self-control in a situation, we need to turn to the every-ready whisper in our ear … nothing is impossible with God! God has given me a spirit of power and love and self-control! Let that whisper be loud and clear. I love having whispers close at hand to help!
May my simple and brief sharing spark your own reflections and prayers on the fruit of the spirit.
For a different way to look at this passage and perhaps widen our reflections, the Message Bible translation of Galatians 5:22-23 reads:
"But what happens when we live God's way?  God brings gifts into our lives, much the same way that fruit appears in an orchard – things like affection for others, exuberance about life, serenity.  We develop a willingness to stick with things, a sense of compassion in the heart, and a conviction that a basic holiness permeates things and people.  We find ourselves involved in loyal commitments, not needing to force our way in life, able to marshal and direct our energies wisely."