By the Rev. Arthur Boers.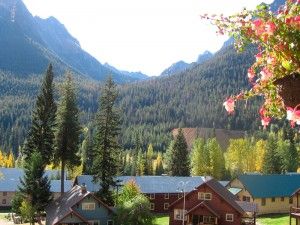 Matthew 17: 1-9  
Decades ago, I traveled to a remote Christian retreat centre in the Cascade Mountains in Washington state. It was a long journey: two jet flights, overnighting in Seattle, then boarding a chartered bus to beautiful Lake Chelan, taking a small ferry over several miles of water, and finally being met by staff from the retreat centre. They had a clunky yellow bus that had been retired from school service and now shuttled guests from the lake shore to the retreat centre deep in a mountain valley some miles away. The gears groaned and ground as the bus swayed up and down mountain slopes; a trip guaranteed to evoke travel sickness in the hardiest of pilgrims.
In the bus was a sign that I studied at the time. I did not understand it and soon forgot it when we got to our destination. Holden Village was once a mining town but now is a Christian study and retreat centre. Off the grid, it generates its own power and is completely out of cell phone and internet range. I was stunned by the beauty of the surroundings. I did not grow up around mountains, so miles and miles of snow-capped peaks seemed like a fantasy. Every day I went for long hikes. I knew there were bears and cougars around and looked for evidence. I saw marmots for the first time. At the end of each jaunt, I came back stiff and sore, longing for a hot bath. But I also felt fulfilled and exhilirated. It was an amazing week just for that and also because we were were a group of studious and seriously intent believers. We had wonderful learning sessions. And the worship was reverent, exuberant, intense.
So, yes, I was sorry when that mountaintop experience ended.
The expression "mountaintop experience" refers to something that often happens when coming away for spiritual spiritual renewal and refreshment. One experiences holy and important realities: joy, perhaps even euphoria. It can be hard to bring such encounters to an end. And back home it can be difficult to explain to others what happened or why it is significant. When that happens, we have encountered mystery. We are aware of God's grandeur and our smallness. We gain insights into priorities and realities much larger than we are, ones we don't want to forget. Mystery.
The transfiguration marks a hinge, a turning point, in the gospels. It occurs just as Jesus sets his face to Jerusalem. More and more, crucifixion and passion are on his mind. On one hand the transfiguration previews the resurrection and shows his power. But on the other the shining white clothes also symbolize martyrdom & death. So even as we see Jesus' exaltation, we are warned that he will be killed.
Just prior to the transfiguration, the disciples had much to celebrate. They marveled at Jesus' power & miracles. They had seen seen healings and multitudes fed. They came to clarity that Jesus is the Messiah, son of living God. But as they came to clarity, Jesus began to warn them, restrain them. In Matthew 16, no sooner does Peter make the great confession then Jesus began to show his disciples that he must go to Jerusalem and undergo great suffering … and be killed, and on the third day be raised. Similarly, shortly after the transfiguration Jesus will again predict: The Son of Man is going to be betrayed into human hands, and they will kill him and on the third day he will be raised. And [the disciples] were greatly distressed
So the transfiguration marks a paradox between great glory and great suffering. On one hand Jesus' face shone like the sun and his clothes were dazzling white and God's voice came out of a bright cloud … This is my Son, the Beloved; with him I am well pleased. And on the other hand, they had an awareness that this same dazzling figure is on his way to an ignominious death. How can this be?
Transfiguration is about glory but God's kind of glory. It is not necessarily what you & I mean by "glory." In the gospel of John for instance Jesus spoke often of glory but as Henri Nouwen notes, "Every time Jesus speaks about being glorified & giving glory, he always refers to his humiliation & death. It is through the … cross that Jesus gives glory to God, receives glory from God, and makes God's glory known to us. The glory of the resurrection can never be separated from the glory of the cross. The risen Lord always shows us his wounds."  The disciples, not surprisingly, are confused. Jesus glowing whiter than shirt washed in all-temperature Cheer and receiving heavy-duty support from heavyweights in faith, Moses, and Elijah, not to mention a divine endorsement, my Son, the Beloved; with him I am well pleased, and on the other hand, Jesus keeps talking about dying.
The disciples are tempted to stay on mountain, to linger in the mountaintop experience. Peter even says Lord, it is good for us to be here… I will make three dwellings. But when God is revealed God calls us to move forward in faithfulness, in courage, into ministry. After the transfiguration, the disciples descend to the valley and encounter a demoniac boy. One more disturbing occurrence as they turn their face with Jesus toward Jerusalem and the inevitable cross.
Often we read this story and focus only on how Jesus and Jesus' appearance was changed. But there's another side and that is how the disciples were changed. One of my seminary profs, Elias Chacour, an orthodox Christian from the Middle East, told our class that the more interesting transfiguration was the transfiguration of the disciples' eyes. They were enabled & empowered to see reality in new ways on mountaintop. Their perceptions were transfigured, much like the disciples on road to Emmaus: Then their eyes were opened.
This is a theme we see again and again in scriptures, and in Christian faith. Henri Nouwen said: the "place of conversion" is also "the place where the old self dies and the new self is born, the place where the emergence of the new man and the new woman occurs."
When the disciples on mountain saw Moses and Elijah and then witnessed Jesus' marvelous transfiguration, they were tempted to stay but not permitted to do so. They immediately encounter desperate needs upon their descent from mountain.
Jesus had a mountaintop experience at baptism when God declared him as God's beloved child. From that exhilaration, Spirit led him into wilderness where he was tempted in and on and around other mountains.
The disciples in the upper room on Pentecost were not baptized with tongues of fire for private titillation and spiritual jollies. No, they–like like you and I–were given the fire of Lord to minister, to serve, to give witness, to do justice, to make peace. You see, mystery is given to equip ministry.
There is this repeated paradox in scriptures, going from mystery to ministry: the paradoxical movement from marvels and mystery of encountering God to challenges of ministering to God's creatures and creation.
          Some of us long to linger on mountain. Yet we are there not to linger but to be prepared: for entering into service and ministry, to grow in Christ, to pay attention where God calls our attention. God steadily directs us to see and hear poor, outcast, vulnerable, suffering.
Mountaintop experiences–taking time with God– are not ultimately about leaving or abandoning the world. They are not wandering off just Jesus and me. Rather, being face to face with God entails being face to face with pain and dislocation and suffering in the world. God draws our attention to such realities.
The night before he died, the Rev. Dr. Martin Luther King Jr. assured a Memphis congregation that he knew astonishing peace in spite of death threats. Why? Because he had been to the mountaintop and he had seen God's future. Like Moses, King would not attain the promised land in his life. But neither did he remain on the mountaintop. The next day he was cruelly assassinated. He descended deeply into suffering and his death plunged not just his family but an entire nation into greater sorrows and troubles.
In mountaintop experiences, we are called to move from mystery to ministry, to encounter God and begin to see differently, to see as God sees, to grow to love God's priorities. We acquire or grow into the heart, eyes, senses, and perceptions of God. We learn to see what God sees and as God sees.
When we rode that school bus into Cascade mountains, I was perplexed by the sign at front of bus. It read: "The ride up is free; the trip down is costly." The retreat organizers were reminding us that there is joyful grace in going on retreat. And while the journey up mountain is inspiring and beautiful, when we left that place we would be called to serve God's priorities elsewhere. When we engage God's mystery, we will be called into ministry, from glorious mystery to costly ministry, the price of meeting and seeing God. The trip down is costly, to the glory of God the Father, Son, and Holy Spirit, one God who Mothers us all.