By. Sr. Doreen, SSID.
Sister Doreen's Reflections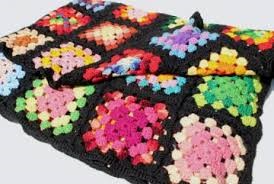 I would like to share a story with you – it's a real story.  A year before my mother died, I was home on holiday.  The folks had been tidying up, and my Mom, being an enthusiastic and skilled knitter and crocheter, had over the years knitted all sorts of things for all sorts of people.  And she also had put aside all the left-over bits of balls of wool – not bearing to throw them away. 
There was a closet full of 'left-overs' – scraps of wool: immense bags of untidy yarn of every colour that you could imagine.  I smiled at the two of them, my Mom and Dad – as they sat sorting through the closet, slowly rolling left-over scraps of wool into little balls and sorting them by colour and then stashing them in bags.  This was a real scrap yard of all sorts of wool.  Just before Mom died she had finished with her scrap yard: the result was a wonderful Afghan – a Granny Square Afghan – that she crocheted for me.  I never got to see her to say thank you for she died suddenly and unexpectedly.  Dad gave it to me when I came home for the funeral.  He told me how she had knit the little squares out of the scraps of wool – hundreds of them, and then bought balls of black yarn into which to weave the different colours.  How they had taken the squares and laid them out to form a pattern.  Then collecting them in order, Mom had sat for hours joining the squares together with the black wool.  Out of scraps of wool, she created a thing of beauty and love.
Our stories are very much like my afghan – made up from scraps found in the scrap yard of our life and heart – our special moments, significant relationships, journeys, turning points, changes, places, regrets and sorrows, heartaches, brokenness, joys and enthusiasms. It formed itself into a meditation poem for me as I looked at the Afghan and my own life:
In the pattern of God's purpose, we are stitched together in caring and communion by God's unconditional love for us. Scraps of the lingering past, fragments broken from future's dearest hopes; textures of disappointment and dreams, prints of pain and promise: broadcloth and corduroy, stripes, silks, and wools – and all the colours of emotion and experience – are sewn into a crazy quilt of life.  We are patched together and transformed into a blanket of love and compassion.
I thought how contemplative prayer / living challenges us to bring these scraps together into a wholeness that is ours. It is absolutely unique, crammed full of meaning and of a beauty all of its own. God takes great delight and great joy in this precious patchwork of our life. The new thing of beauty that is ours is knit together from scraps not just for ourselves, but becomes an Afghan for the warming and holding of others. May our love and compassion comfort a cold and hurting world.
Common Praise #600:
You call us out to praise you, one God for all the earth;
To gather in communion, and treasure human worth;
we are your living story, to hear and to be heard;
we praise your name, who write us, the Writer and the Word.

For varied hues and textures, new patterns, still your search
to weave your seamless garment, the fabric of your church;
our tattered faith you cherish, reclaim from wear and moth;
we praise your name, who twine us, the Weaver and the Cloth.
The Church that speaks forgiveness confesses its own need;
the church that feels its hunger finds grace to care and feed
our famished world is crying, its future filled with dread;
we praise your name, who fills us, the Baker and the Bread.
The Church that offers healing, discerns its wounds and loss;
The church that faces dying, shares life beyond the cross;
To people torn and broken your mercy your mercy is revealed;
We praise your name, who love us, the Healer and the Healed.
Our feeble voices struggle to sing your justice clear;
The world has sunk in silence, each discord echoes fear;
One voice alone is ragged; together we are strong;
We praise your name, who breathe us, the Singer and the Song.