By Sr. Doreen, SSJD.
Sister Doreen's Reflections
The Most Important Command – some pondering thoughts: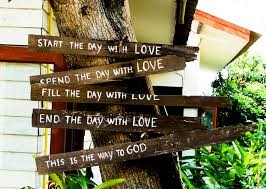 (Bible translation):
"One of the religious scholars posed a question to Jesus: "Teacher, which command in God's law is the most important?"
Jesus said: "Love the Lord your God with all your heart, with all your soul, and with all your mind.  This is the most important, the first on any list.  But there is a second to set alongside it: "Love others as well as you love yourself."
(Aramaic words of Jesus – Prayers of the Cosmos: N Douglas-Klotz translation):
"Jesus said
From the deepest part of yourself, let love be born for the rays of the One that shine around you …
Let this come from your whole heart – the center of your life: your passion, courage, and audacity –
And touch your whole subconscious self- that instinctive soul within which scatters and gathers.
From this self, liberate your whole animal energy and life force to flood your entire grasping mind with love. 
This is the most important command – the first creative movement that empowers all others.  The second is like it:
Draw a breath of compassion for the one mysteriously drawn to live near you:  love that friend as you love the self that dwells within – the subconscious that sometimes feels separate and intruding." 

To heal humanity and open all of us to a fuller experience of life, Jesus introduces in this new Commandment of loving God and loving each other – a new agape love – unconditional love. This is our challenge.  It is a love that does not seek personal advantage over others or fear loss for ourselves.  It is a love that challenges us to overcome greed and anxiety so that we can act for the good of others.  It is a love that finds joy in the happiness of others and rejoices that we are companions with God in bringing life in all its fulness to everyone and to the whole of creation.

The healing process begins in each of us when we realize that the aim of human life is for each and all of us to be one with God and with one another in loving relationship.  Jesus made this point clear in his prayer to God (John 17:20-23).  It is a call to work towards becoming one with each other in love.  God's love project for us is far from complete – we have a long way to go:  this is God's invitation and God's challenge to each of us.  God is loving, hopeful, optimistic – and sees great potential in our partnership.
Meditation thoughts:
we are not asked to love God apart from the world around us, but to see God in all
loving God unconditionally, within and without, brings into God's light more and more of the world around us
there is no inner spiritual work without corresponding action in community
liberation and flexibility in the body, emotions, and personality to the will of God opens one to the light in the so-called darkness, deepens the love and finds spiritual joy in everyday life.
Deciding to say 'yes' to this greatest of commandments, does not mean that you are not afraid, it just means that you are not willing to let your fear keep you locked up
How can we love God whom we have not seen if we can not love our neighbour whom we have seen?
Loving our neighbour as ourselves isn't easy! But it is important enough for God to have said this as a command many times over in scripture – and it is a command: something that we are asked to do intentionally and on purpose. It is a chosen action of compassion and caring, not something that is motivated by feelings.
The challenge of self-preservation, self-fulfillment, self-esteem in loving our neighbour needs the first part of loving God or as Meister Eckhart puts it in a different way: "I see now that the eyes through which I see God are the eyes through which God sees me."
Meister Eckhart: "what good is it to me if this eternal birth of the divine Son takes place unceasingly but does not take place within myself? What good is it to me if Mary is full of grace if I am not also full of grace? What good is it to me for the Creator to give birth to his Son if I do not also give birth to him in my time and culture?'
Key Supports – de Chardin's meditation on Metanoia
Love provides the source of energy for God's life in all its fulness for all – it keeps us going when the going gets rough
To increase love's output of energy, we are to expand our loving connections with others locally and worldwide
Always aim for higher, more open, more inclusive consciousness – open-minded and curious