By Sr. Doreen, SSJD.
Sister Doreen's Reflections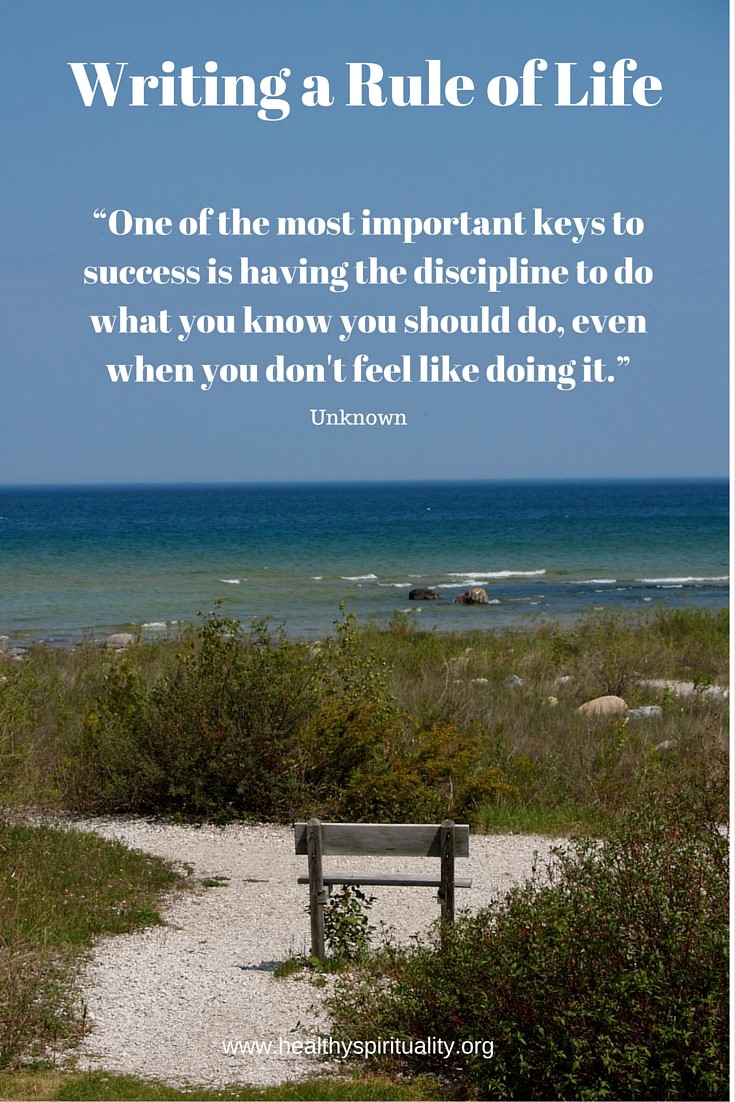 In simple terms, a rule of life is the pattern we set for our day-to-day living, and it reflects our priorities. We all have a rule of life whether we are conscious of it or not.
Margaret Guenther tells a story to illustrate a rule of life:
"My neighbour would get up at 6:30 am each morning, go to work at 7:00 am, return home at 3:00 pm and in the summer sit out on his porch / in winter in his living room and drink beer until he was almost comatose, somehow get himself to bed and repeated the same thing the next day. He never missed a day of work. He kept his garden neat, mowed the lawn in the summer, raked the leaves in the fall, and cleared the sidewalk of snow and ice in the winter. He had an unconscious rule of life. The trouble is it eventually killed him."
It's much more helpful and effective to have a conscious or intentional rule of life – one that will support you and enable you to do the activities which are really important to you. A rule of life that will give a healthy balance to your life.
Margaret Guenther suggests the following categories for setting up a rule of life, and I offer some reflections:
Prayer
– how and when do I pray?
– do I spend some time in meditation?
– how often do I attend the Holy Eucharist, take part in public, corporate worship?
– do I spend some time in 'holy' reading (spiritual reading)?
– do I spend some time pondering Holy Scripture?
– do I use a time of examen of consciousness or sacrament of reconciliation

2. Commitment to Spiritual Guidance

– it is wise to have a spiritual director or a spiritual companion or soul friend or a support group – who can journey with you – with whom you can be totally honest and share your inner most thoughts, longings, concerns. We all need support for the journey.
3. Cultivation of Simplicity
– not a harsh self-denial, but a gentle cultivation of reducing the spiritual and material clutter that can choke our growth. We all need to control the 'weeds' of our lives.
4. Commitment to Generosity
– not just generosity of money but also the use of our gifts and the gift of ourselves to others as we are able. We must not let ourselves become cut off from the pain and naked needs of others. What is my 'soup kitchen' or form of service to the community?
5. Provision for Self-Care
– we must not neglect our physical and emotional needs. This is often the most neglected and yet the most important part of our rule of life!
We need to rediscover the meaning of re-creation. What makes me feel re-created? Is it study, music, crafts, manual labour, gardening, wood-working, fixing things, going to the theatre, bird-watching …
We need to have regular exercise. whatever is appropriate – walking, cycling, gardening, yoga …
We need to build in a sabbath – especially if you are addicted to work or busy-ness. It is a time of blessed nothingness.
We need to pay proper attention to diet and sleep – am I taking good care of myself physically?
And Most Important
This Rule of Life is a provisional document, that will always be changing – as our circumstances change. It must never become rigid or inflexible or it may lose its usefulness. It is meant to be a support and a help along your journey into God's heart – and into yourself, God's home.
(Picture taken from the website of healthyspirituality.org)