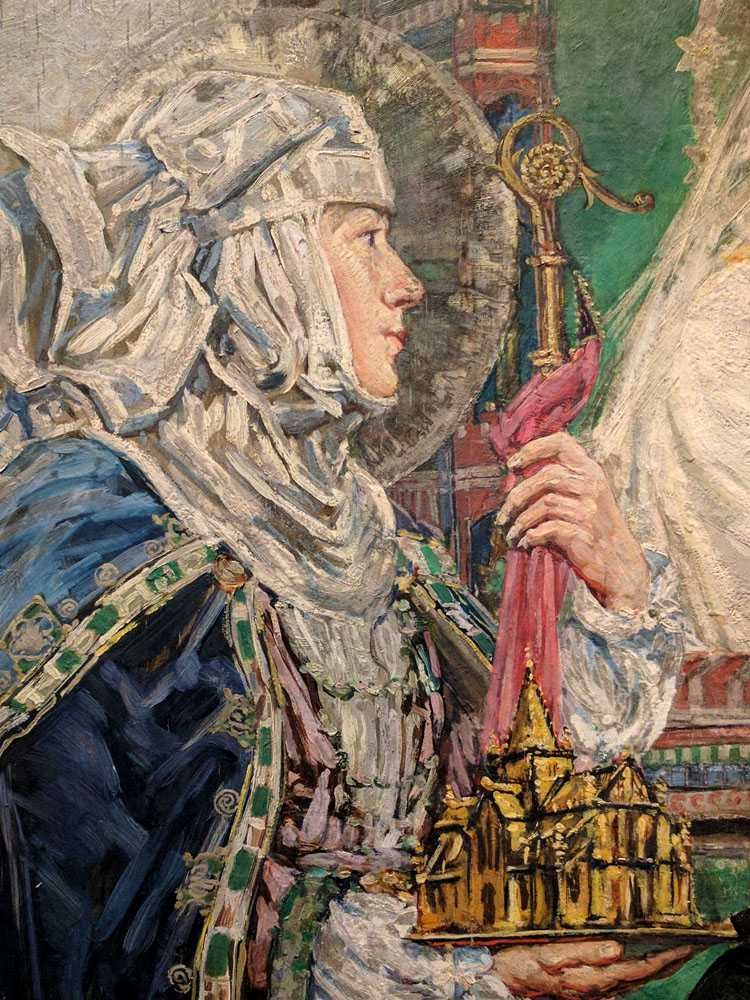 Click the link to view Sr. Kathryn's Life Profession:
https://www.dropbox.com/s/4nzm9f41phltnxg/Sr.%20Kathryn%27s%20Life%20Profession.mp4?dl=0
By Rev. Joanne Davies.
Peter said… "Look we have left everything and followed you. What then will we have?"
Today we will hear Sister Kathryn giving her life – every faculty of body, mind and soul – to God's service. To be utterly consumed in divine love.
Peter might ask…What then will be had? … The joy of seeking the goodness of God in all life and for all life. And the loving struggle of living well together. The living from the encompassing of God every day, every prayer, and every action. And being, or striving to be, or constantly discovering the being of the fullness of the reality of oneself, the person God knows. To know other lives depend on the ordinary moments of one's life. To know accountability to one's community of life. And to have rest in God.
St. Hilda knew this and is with us today …
As Sister Kathryn makes her life profession today, she will be surrounded by the spiritual strength of the English and Celtic life profession of St. Hilda.
It's been at least 40 years, if not more, since I was last in Whitby. And stood on the cliff. In the Abbey that is. Deep beneath that place are the living stones of Hilda's once Celtic Monastery telling their story. I felt gathered into something so much more than me – yet I felt revealed to myself. Experiencing the presence of God and hearing the life teachings of Hilda I felt imprinted by a life I didn't know but mysteriously longed for. A vocation only dimly known. Peace was within those broken walls. It was Love calling through all the cracks and spaces.
Hilda was Anglo Saxon but learned the infinite loving path of endings and beginnings of Celtic spirituality and all it meant to profess her life to living as a Celtic Sister. To teach that monastic life would be the best lead to the church. The venerable Bede, who made sure Hilda's story was told, spoke of a strong woman naming her as a leader in pursuing peace, justice and love.
A mid fifth century vacuum was created when the Romans left Britain. The Anglo-Saxons moved in. They carved out several kingdoms on the island and then began fighting among themselves for supremacy and unification. Hilda's relatives were there.
These kings would rise and fall from power. One such King, Edwin of Northumbria, had a nephew named Hereric, married to a woman named Breguswith. Breguswith gave birth to a daughter named Hereswith and then Hilda. Hilda was born around 614 CE, in Northumbria. When Hilda was still an infant, her father was murdered. The three women stayed and lived in King Edwin's court for many years. During this time Hilda's mother dreamt of finding a strand of pearls that shone with a radiant light. It is often told that Hilda lived to give life to this dream – to be a pearl to everyone around her.
Strong women who rise as themselves and are remembered despite the patriarchal power are to be listened to. Though Hilda had thought to follow her sister to France to be a nun, Aidan found her and asked her to stay and form a Celtic community in the north of England. Two years later Hilda came into possession of some land in Whitby and built her own Celtic monastery. As mother to her community and soul friend to a very varied group of people, Hilda sought to illuminate the gifts and hopes of those around her as they discovered who they were with God. She celebrated all their good and helped them do the same. She did this knowing she was encompassed in divine love and could do no less.
When Hilda died at the age of sixty-six she asked her community to: preserve their blessed evangelical peace among themselves and with all others. She wanted them to become gift givers, gift seers and celebrators, gift illuminators of others – to be generous reflections of God. In the service of God. Loving neighbour. United with Christ.
St. Hilda is with us today.