By Sr. Elizabeth, SSJD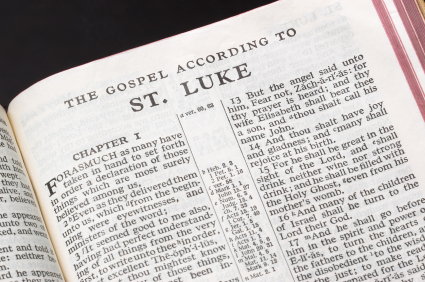 Sir 38:1-4, 6-10, 12-14 Ps 147:1-7 Lk 4:14-21
Early tradition suggests that Luke was a physician, a Gentile convert, and a friend of the apostle Paul. As the the author of the Gospel according to Luke, he seemed to be writing primarily for the gentile world. He seemed to love Jesus' stories including some of my favourite parables: The Good Samaritan, the Prodigal Son and the Pharisee and the Tax Collector. He shows how Jesus reached out to the people whom others ignored: women and children, Samaritans and Tax Collectors, gentiles and people with evil spirits—in other words, all the marginalized to whom Jesus reached out.
The reading from Sirach focuses on the skills of physicians. Ps 147:1-7 is a hymn of praise to God who heals the brokenhearted and heals up their wounds. And the Gospel is from Luke: it is the passage in which Jesus reads from the prophet Isaiah in the synagogue in Nazareth; this passage describes what Jesus believes to be his own mission. What I would like to share, however, is why I so appreciate the writings of St. Luke (both the Gospel and the Acts of the Apostles), but it's the Gospel of Luke I want to focus on.
There are three key themes from the Gospel of Luke which really speak to me: First, Jesus' acceptance and affirmation of all people including women and children; Jews, Greeks, Romans and Samaritans; demoniacs, lepers, criminals and sinners (in other words, the marginalized in general); a second key theme for me is Jesus' compassion for everyone which resulted in countless healings of all kinds of people (I think these stories would have particularly appealed to Luke the Physician);  and, third, Jesus' focus on forgiveness as a key characteristic of God. Many of the stories in Luke's Gospel illustrated all three of these themes but I'd just like to pick out a few for each theme. As the parable of the Prodigal Son makes clear, these are all characteristics of God.
First Jesus' acceptance and affirmation of all people, especially those marginalized by their nationality, their mental or physical health, their occupation (e.g. tax collectors), their sexual sinfulness, or simply the fact that they were women or children. For example, Jesus not only healed a slave of a Roman Centurion (an officer of the Roman Imperial Army) but expressed amazement at the Centurion's faith, saying, "Not even in Israel have I found such faith". The Centurion had not felt worthy to have Jesus come to his house; instead he said, "Just say the word and my servant will be healed."
When Jesus was approach by a leper, Jesus reached out his hand and touched him although obviously he could have healed him without touching him. Jesus recognized the leper's deep loneliness and isolation because he had been shunned by all of society and made to live in caves away from everyone. Jesus would have realized the leper's need for physical touch. [Perhaps we understand that deep need for touch today more than ever before because of Covid-19.]
Jesus reached out to women and children: we're all familiar with the words: 'Whoever welcomes this child in my name welcomes me, and whoever welcomes me welcomes the one who sent me; for the least among all of you is the greatest.' When the disciples tried to send the children away, Jesus scolded them. When a sinner woman came to Jesus while he was dining at the home of Simon, a Pharisee, Jesus accepted her bathing his feet with her tears and wiping them with her hair. She kissed his feet and anointed them with ointment. That is an extremely intimate action, and a Jewish male was not supposed to have physical contact with any woman other than someone in his own household, yet Jesus not only accepted her and welcomed her. He pointed out to Simon that she had been much more welcoming to him than Simon had. There are several other incidents I could mention: inviting a despised tax-collector to be one of his disciples, healing of the demoniac who lived in a cemetery, and healing a young boy with epilepsy whom the disciples had not been able to heal. Could that be because of their own fear or lack of acceptance?
The second theme in Luke's Gospel which stands out for me is Jesus' compassion which is highlighted by Luke in many of his stories and all his healings. Three incidents come to mind in particular. The first is the healing of the son of the widow of Nain. Jesus and his disciples were approaching the town of Nain when they saw a man who had died being carried out accompanied by his widowed mother. When he saw her, "he had compassion for her and said to her, 'Do not weep.' Then he came forward and touched the bier, and the bearers stood still. And he said, 'Young man, I say to you, rise!' No one had asked him to heal the young man and yet his compassion impelled him to help this widow who would be without resources following the death of her only son.
The second incident is also about healing a woman—the woman who had been suffering from hemorrhages for 12 years. No one had been able to help her and she would have shunned by society because of her constant bleeding. You remember how she reached out to touch his clothing when he was on his way to heal Jairus' daughter. He doesn't scold her for touching him which would have made him ritually unclean or for stopping him when he was on a mission. He doesn't shame her or scold her or try to embarrass her. He says, 'Daughter, your faith has made you well; go in peace.'
My third example is the healing of the blind beggar near Jericho who cried out to him. Others in the crowd tried to silence him but Jesus ordered him to be brought forward and asked him what he wanted. He said, 'Lord, let me see again.' Jesus said to him, 'Receive your sight; your faith has saved you.' The beggar could have just been asking for money but Jesus realized he wanted his sight so that he could earn a living and he healed him gladly.
Finally there is Jesus' lament for Jerusalem:  Jerusalem, Jerusalem, the city that kills the prophets and stones those who are sent to it! How often have I desired to gather your children together as a hen gathers her brood under her wings, and you were not willing! (13:34) I find these words very poignant. Jesus recognizes that sometimes people simply don't want to be helped and there's nothing anyone can do.
The third theme which speaks to me so strongly is the emphasis on forgiveness which is mentioned 17 times in the Gospel of Luke, more than in any of the other gospels. This theme is at the heart of two of Jesus' best-known parables: First the parable of the Pharisee and the Tax Collector. Both men are praying in the temple: the Tax Collector is boasting about all he has done for God while the tax-collector does not even raise his head because he is so aware of his sinfulness, saying, "God, be merciful to me, a sinner." Jesus says to the crowd: I tell you, this man went down to his home justified rather than the other; for all who exalt themselves will be humbled, but all who humble themselves will be exalted.' Jesus is often accused of sitting down with sinners and tax collectors. It sometimes seems that he is more comfortable with them than with religious people.
Then there is the much loved parable of the Prodigal Son which follows the parables of the lost sheep and the the lost coin which end with Jesus saying, : Just so, I tell you, there is joy in the presence of the angels of God over one sinner who repents.' In the parable of the prodigal son, the word "forgiveness" never actually appears and yet that is the heart of the story. What I love about this story is that the younger son prepares a speech to recite to his father: "I will get up and go to my father, and I will say to him, 'Father, I have sinned against heaven and before you; I am no longer worthy to be called your son; treat me like one of your hired hands." How many times did I prepare what to say to my mother when I had done something I knew she would disapprove of. But the wonderful thing is that the father completely ignores his son's speech. Instead he says to his servants, "Quickly, bring out a robe—the best one—and put it on him; put a ring on his finger and sandals on his feet. And get the fatted calf and kill it, and let us eat and celebrate; for this son of mine was dead and is alive again; he was lost and is found!" For me, this depicts the essence of God who has already forgiven us before we even seek forgiveness. God just wants to be in relationship with us.
Finally, there are the words from the cross which come from the Gospel of Luke. 'Father, forgive them; for they do not know what they are doing.' I find these words so comforting. I know there are times when I have hurt someone without intending to. Sometimes I realize later and can apologize, but when I think of my years of teaching, I'm sure I have unintentionally hurt students because either I didn't understand the difficulties they were living with or I was feeling tired and stressed myself. But God understands our woundedness and our weaknesses. Jesus' second word from the cross in Luke's Gospel is addressed to the penitent thief and also assumes forgiveness. When the thief said, 'Jesus, remember me when you come into your kingdom.'  Jesus replied, 'Truly I tell you, today you will be with me in Paradise.'
These three themes that Luke highlights not only describe Jesus but also say something about the character of Luke the Physician and Evangelist: I believe he too was a caring, compassionate and forgiving human being. May we be the same.