By Reverend Canon William Morrison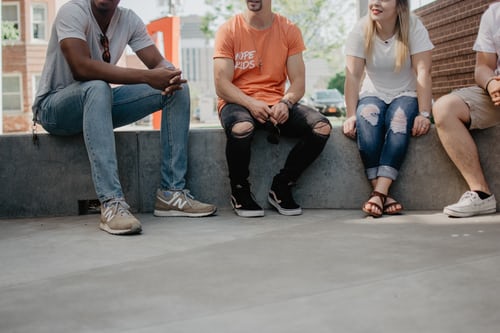 How does God speak to the Church? How does the Church change its mind? How does transformation happen?
We could ask the same question of ourselves as individuals. How does God speak to us? How do we change our minds on important subjects? How does transformation happen within us?
One thing that people on all parts of the theological spectrum might agree on is that, however God speaks, however minds are changed, however transformation happens, the one way it can never happen is for people to think that the voice of God comes from the world outside the church, outside the "bubble", to believe that the call for change can come from the so-called "secular world."
Don't give in to the world, we say. Stand fast for the faith. The Church must not give in to the secular mind-set. The Church is here to transform the world, not the other way around.
It seems patently obvious, doesn't it?
But I wonder.
I wonder, because in today's gospel reading we see God speaking to Jesus. We see Jesus, the founder of the church against which the gates of hell will not prevail, changing his mind. We see an earth-changing transformation taking place. And it comes not from prayer, not from the reading of scripture, but from the world. It takes place, not in the temple, not in the midst of worship with the heavens opened and the throne of God revealed high and lifted up, but on a dusty street in a pagan city.
Jesus knew that his mission was a restricted one: "I was sent only to the lost sheep of the house of Israel." Earlier he had sent his disciples out on a mission of preaching and healing, with the words "Go nowhere among the Gentiles, and enter no town of the Samaritans, but go rather to the lost sheep of the house of Israel." Don't leave the "bubble", because out there contamination has gone viral.
And today he reiterates his agenda: his mission is only to Israel. One does not take the things of God and throw them to dogs.
And then comes the voice of God. "Yes, Lord, yet even the dogs eat the crumbs that fall from their masters' table." The voice comes not from the sky, not from a cloud, not through thunder or a flash of light. It comes from the world outside, from a pagan woman whose only concern is the welfare of her daughter. And that need, that human wretchedness, that mother's anguish, knows no boundaries of race or nation.
And in a flash, Jesus realizes that, just as that human need is universal, so must his mission be. His mission is not exclusive, to draw circles that keep people out. His mission is, instead, to burst the bubble, to draw the circle wide, to bring all people in.
That's one way to read this story, as a story about God's mind being changed by exposure to the universality of human need.
But there's another way to read it that I find equally powerful.
Create the scene in your mind. Jesus has brought his disciples to the region of Tyre and Sidon, pagan country, far, far away from their Jewish comfort zone. As we heard in the first part of today's Gospel reading, earlier he's been trying to get them to question the traditions they've been taught, traditions that tell them they are special, blessed, and everyone else is condemned, cursed; to challenge them to broaden their horizons, to open their hearts. But had he got through to them?
Then along comes this pagan woman, asking that Jesus heal her daughter. She no doubt knows just what Jews think of her — despising her as a pagan, dismissing her as a woman — but still, she asks. She's heard about Jesus, about his healing powers, and she has to ask, even though nothing's likely to come of it.
Jesus pauses. He looks at the woman. He looks at the disciples who are standing all around them, asking him to, for heaven's sake, get rid of her.
Nope, his earlier teaching had not got through to them. And he sees an opportunity here, a teaching moment. He looks at the woman again. His eyes invite her to follow them as he looks again at the circle of disciples.
And then he speaks. "You can't take the children's food and feed it to [and he looks up at the disciples] … to … dogs." Some of the disciples are, no doubt, high-fiving each other, saying, "Right on, Jesus!" But I hope at least some of them are looking a bit sheepish when they hear how awful their racial prejudice sounds, especially when it's spoken right in front of one of those despised "dogs".
The woman plays along; she's caught on to what Jesus is doing; she sees that he's on her side in this, not theirs. She plays along. "True," she says — and remember: she's on her knees, in the centre of the circle of stern disciples standing around her, disgusted, ready to condemn — "True, she says," looking at the ground, "but even the dogs can eat the crumbs that fall from the children's table."
And Jesus responds by saying "What faith!" "Your faith is great — he looks at the disciples again, then back at the woman — your faith is great, and your request — not the disciples' request that Jesus send her away — her request is granted. Her faith, and nothing but her faith, matters. Not her race. Not her religion. Not her sex. Just her faith. And her need.
So, that's two ways of reading this story. Is it a story about God's mind being changed? Is it a story about God's challenging us to change our minds, God nudging us into examining whatever notions we might have of racial or ethnic or religious superiority, or, as may be, white supremacy, and, having examined them, to disown them. I offer both of them to you. Make of them what you will. Or give the story your own interpretation. And give God the glory.