by Sr. Constance Joanna, SSJD.
Readings: Acts 10.34-43, Psalm 118.14-29, Colossians 3.1-14, Matthew 28.1-10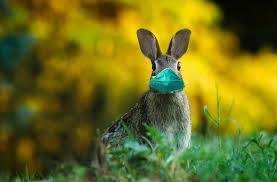 The following homily was preached on Easter Wednesday when the Convent sisters celebrated the return of three of sisters who have moved back to Toronto from B.C. and were isolated in the Guest House for two weeks of self-isolation. It was the first day the whole community was together in many months. The propers were for Easter morning.
Alleluia, Christ is risen!
The Lord is risen indeed. Alleluia!
We give thanks today for the resurrection of Sr. Beryl, Sr. Brenda, and Sr. Wendy Grace from the Guest House into the Convent – we are so grateful and joyful that they came through their self-isolation after travel with no sign of the Corona virus.
I want to tell you the story of Uncle Carl and the Easter bunny. Uncle Carl was one of my mother's brothers, and I loved him, but he was a terrible tease. I remember him phoning my mother once on the Saturday before Easter. I answered the phone (I must have been 8 or 9 years old). When I answered, he said in his usual cheery way, "Hi Honey, how are you?" "Hi Uncle Carl," I said, "I'm fine."
He responded, "Honey, I have bad news for you." "What's that?" I said. "The Easter bunny is dead," he replied. "There won't be any chocolate eggs this year." "O Uncle Carl, don't be so silly," I said. Or something like that.
It was a silly joke, and he knew I didn't believe in the Easter bunny anyway. The Easter bunny was already dead for me. Jesus had died too, but Jesus had risen from the dead. And even at the age of 9, I knew the significance of that for me and for our world.
But this year, in case you haven't noticed it, the Easter bunny has made a come-back in my consciousness because he's been rather up-front in a very public way. Our Premier Doug Ford, at the urging of our mayor, made a province-wide decree last week that the Easter bunny was an essential worker, and would be permitted to hand out candy and other treats to children as long as he didn't come into the praygrounds and parks that were off limits. Many of the other premiers around Canada made similar announcements. The Easter bunny was allowed to travel, but he had to keep the appropriate social distance. I watched the Premier of Alberta make this announcement, in response to a child who had written to him asking if the Easter bunny would be allowed to visit. He would, Jason Kenney said on TV, reassuring her and other children who were watching. But he would have to wash his hands for 20 seconds many times a day, and stay at least two metres away from any child he ran into – and he used that as a way of encouraging this child and everyone else to observe all the hygiene protocols. The Easter bunny would also be wearing a mask when he visited.
My first response to all this was "how silly"! Don't these premiers know what Easter is about? Why perpetuate a silly legend about a rabbit bringing chocolate eggs to kids? Well they can't exactly promote Jesus in the secular society we're living in. Our own faith in the risen Christ is crucial to us but what about to the majority of the population of Canada who either worship in other faiths or have no faith at all? I got to thinking that the story about the Easter bunny is actually a wonderful way to remind not just children but all of us that there is something in this world that is essentially good, and that good eventually overcomes evil.
Bishop Michael Curry talked in his Easter sermon at Washington National Cathedral Sunday about how it just doesn't seem like Easter, but it is Easter. The Easter bunny doesn't seem much like Easter to us, but it does to others. God moves in mysterious ways, even through the Easter bunny. The women who came to the tomb, Bishop Curry said, were just doing what love does. I think that may be said of our government leaders – however we may agree or disagree with their politics, they have all risen to the challenge of not only encouraging people verbally but also with concrete financial measures to help those who are out of work, and businesses to keep employees on their payroll. Their encouragement to parents can also get passed on as encouragement to children. In a peculiar way, they are sharing the message of resurrection hope with Canadians. Anything we can do to encourage random acts – or planned acts – of kindness is a way of sharing Jesus' message of just doing what love does.
And if that's the case, how much more are we believers called to share the message of Jesus' saving and reconciling love with others? That is the message at the heart of the Easter gospel.
The account of the resurrection we've just heard from Matthew's gospel is the most dramatic of all the gospels – cosmic in its presentation. The resurrection narratives in the other gospels are quieter and in some ways more personal. But in Matthew's version, the resurrection is dramatic, noisy. It almost seems staged, even a little showy. Mary Magdalene and the "other Mary" go to see the tomb. So far so good. Then there is an earthquake. An angel descends from heaven, rolling back the stone. He sits on it. His clothing is pure white, like lightning. The guards shake and become like dead men.
And then the angel says what angels always seem to say when they make an earthly visitation. "Don't be afraid." O yeah? Then why all this drama, all the rolling of drums and thunder and lightening and earthquakes? Who wouldn't be afraid?
But the angel persists – calm down, it's OK. I know you're looking for Jesus who was crucified. He has been raised – look, you can see where he was buried – he's not here. Further, he's given me a message for you – he said to tell you that you should go find the other disciples and tell them that he's going ahead of you to Galilee and you'll see him there.
So Jesus' two friends – the two Mary's – leave the tomb with both fear and great joy – we all know that mixture of emotions when something seems too good to be true – and they obediently run to tell the other disciples. On their way, they run into Jesus himself who suddenly appears before them and says "Greetings!" Greetings, of all things – this seems a bit of an understatement after the earthquake and lightening. This quiet appearance of Jesus is such a strong contrast to the angel's appearance that the two women are overwhelmed. They fall down, take his feet, and worship him. And what does Jesus say? The same thing the angel said – don't be afraid. Go tell my brothers to go to Galilee – they will see me there.
I wonder why Jesus first sent the angel with the message and then decided to show up himself. Didn't he trust the angel? Or was he just so excited himself that he wanted to tell them in person – show them that he was alive? I've been in that situation – told someone else to deliver a message and then I have repeated it myself, just to make sure the person gets the full import of it.
But what exactly is the message here? What is all the thunder and lightening and earthquaking and people-quaking about? It is no less than the rebirth of the world, even the cosmos. On Good Friday, when Jesus died, there was an earthquake and thunder and lightening and the veil of the temple was torn in two, signalling that everything had changed – everything. And on Easter morning Matthew wants to be sure that no one misses the point. The message is that Jesus has defied death and offers all of us new life – not just after our own earthly lives but now, at this moment, when we stand at the crossroads where God breaks into human time.
Easter is like a wrinkle in time as Madeleine L'Engle called it in one of her children's books. It is the place and the time where heaven and earth meet, "when heaven is wedded to earth" as it's expressed so beautifully in the Exultet. It is a time pregnant with possibility, just as this dark time we are living through is pregnant with light, with creativity, innovation, and resourcefulness, compassion, and love. This time of isolation in a pandemic might just be a passover for our society if we can treat it that way.
But there is another message in today's gospel, too – we are sent to share that first message – Christ is risen. The angel tells the women to go find the disciples and tell them that Jesus has risen and will meet them in Galilee. Jesus himself tells the women to go find the disciples and tell them that he has risen and will meet them in Galilee. We have the responsibility to find our friends and share the good news that Christ is risen, that our lives are all new as a result of his rising from the dead, that we need never fear death again, and that he invites us into a relationship of love and service with him.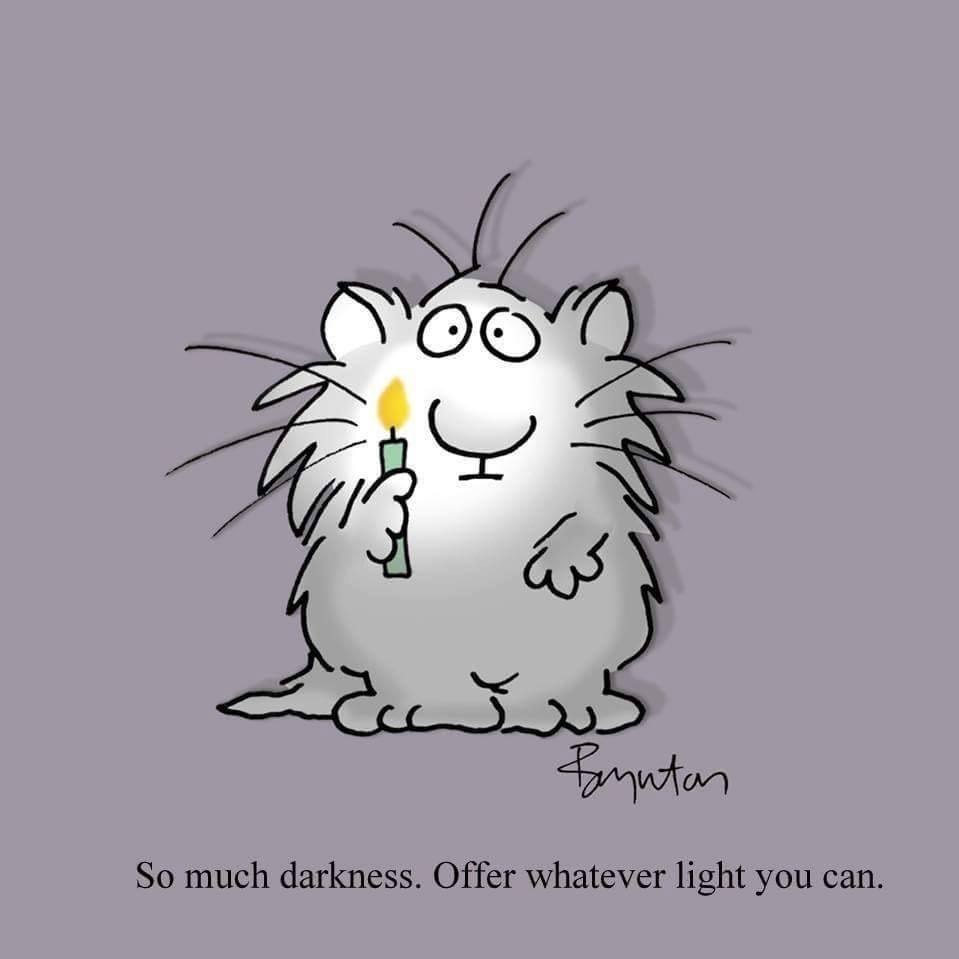 Jesus has said that the Father continues to work – the work of creation, and the work of recreation, of birthing the kingdom of God. That work is accomplished through us. That is our commission as Christians.
And so today we are invited to deepen our adult relationship with God. The Easter bunny has not risen from the grave. Jesus has. Or maybe I should say that the Easter bunny has made a public appearance in our secular society. Maybe we'll discover that he is another kind of Forerunner, announcing the reality of new life.
I leave you with this wonderful cartoon by Boynton, which reminds us of our calling to be messengers of the risen Christ, to do what love does, to offer health and healing to everyone we meet:
Alleluia, Christ is risen!
The Lord is risen indeed! Alleluia!