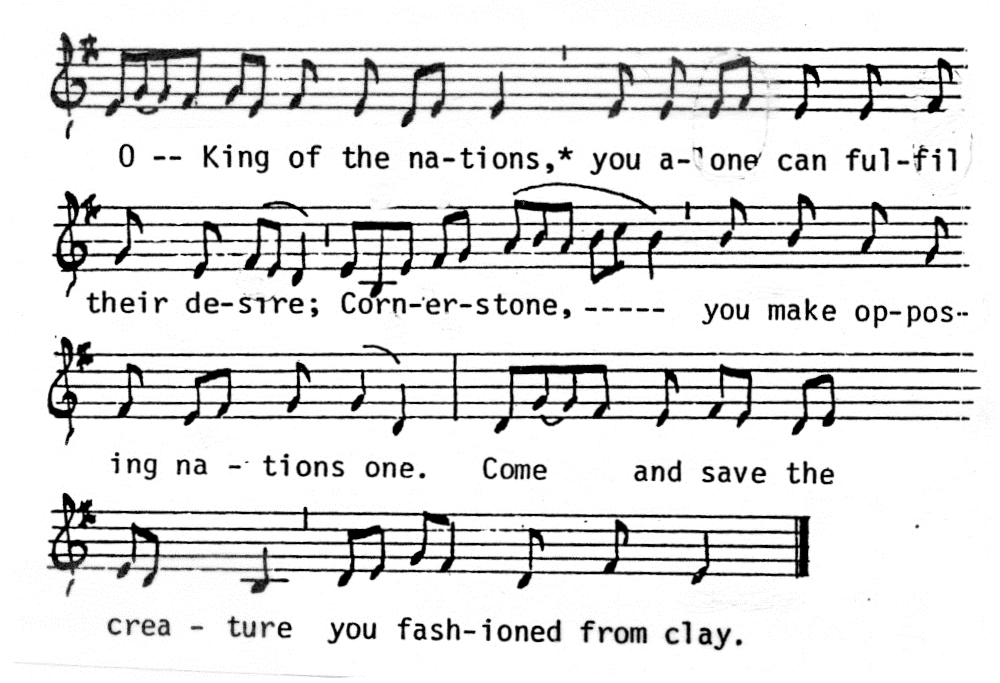 The "Great O" antiphon for December 22 is "O King (or Desire) of the Nations."
(See an explanation of the Great O's in the blog post for December 16.)
From Jeremiah 30: 7 – 11a
Alas! that day is so great
there is none like it;
it is a time of distress for Jacob;
yet he shall be rescued from it.
On that day, says the Lord of hosts, I will break the yoke from off his neck, and I will burst his bonds, and strangers shall no more make a servant of him. But they shall serve the Lord their God and David their king, whom I will raise up for them.
But as for you, have no fear, my servant Jacob, says the Lord,
and do not be dismayed, O Israel;
for I am going to save you from far away,
and your offspring from the land of their captivity.
Jacob shall return and have quiet and ease,
and no one shall make him afraid.
For I am with you, says the Lord, to save you;
KING OF THE NATIONS and desire of our hearts – amidst all the senseless violence of life you are the cornerstone that binds us into a home for God.  God is the true desire of every heart, the ache of loneliness that plagues us all our lives, even in the most intimate loving encounters.  But how many of us human creatures realize that we are created to be so completely 'at one' with God, that our deep longing for love and union cannot ever be fully met outside of that at-one-ment?  And so we pray that Jesus, the cornerstone, will bind us into a home for God..  We are homes for God, each one of us, this is the single most important truth about us: inclusiveness not rejection is God's theme song for us and God's desire for our hearts in our relationships with each other.  There is no other criteria for a mutuality of love between the peoples of this earth other than this: we are one-ed in God by our shared humanity.  We pray to be at one – to make all nations one – to bind us together in a mutuality of love and respect: in our families, in our communities, in our churches, in the world.  All our roots are inter-tangled.  In our deepest selves we know that every struggle helps free those things we most cherish and hope for.  How many there are who have no realization of their own intrinsic loveliness of being, who do not understand the endless ache of their inner being, and who try to fill that longing through the accumulation of things, the exercise of power, the search for success or the endless quest for the ultimate 'experience' to make meaning of life.  In the darkness of the night – we sing "O Ruler of the Nations and true Desire of our hearts!  You are the cornerstone inviting us all into a home for God.  Come, Lord Jesus. (Sr. Doreen McGuff)
From "O Come, O Come Emmanuel":
O come, Desire of nations, bind
in one the hearts of humankind.
O bid our bitter conflict cease,
and be for us our Prince of Peace.
Rejoice, Rejoice, Emmanuel shall come to you, O Israel.