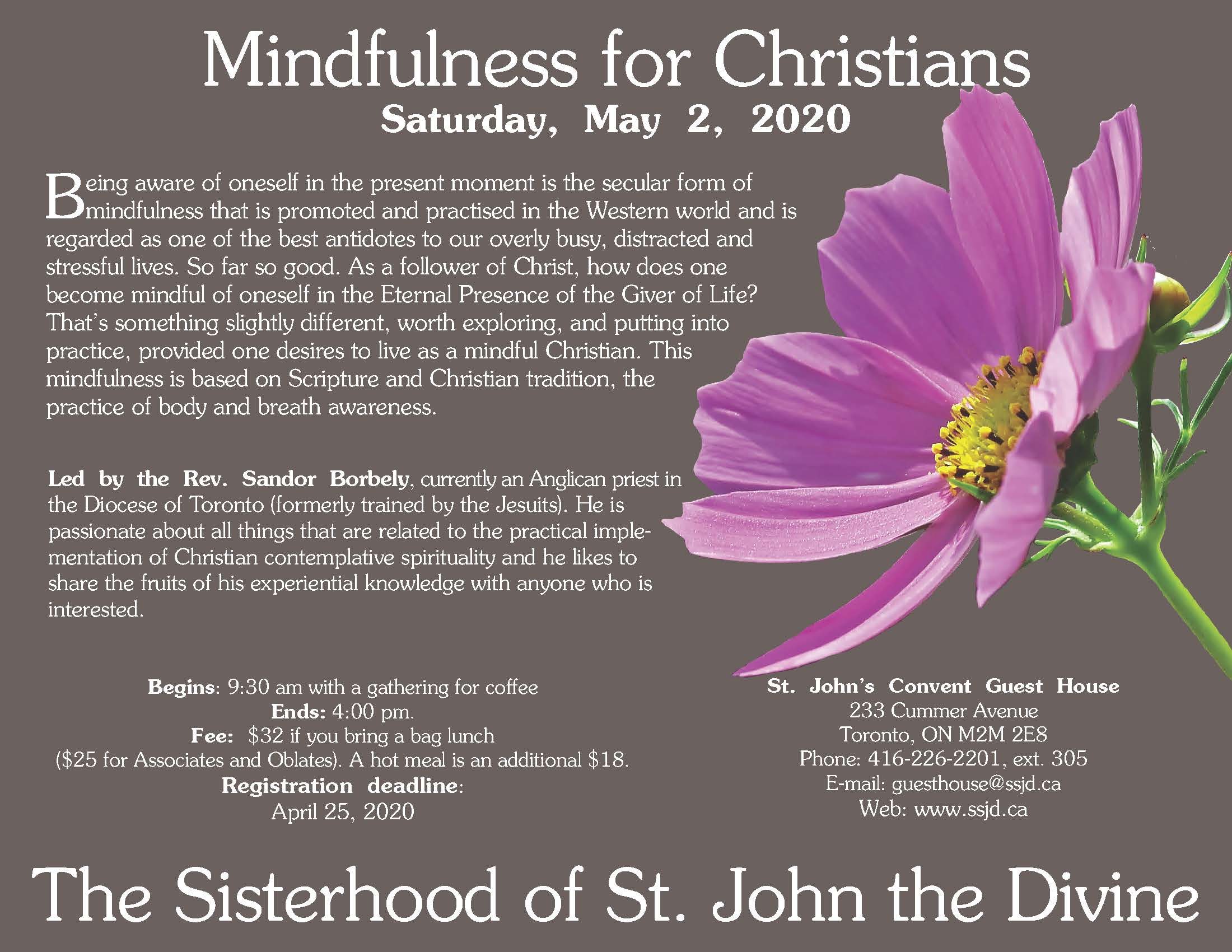 Download This Poster

Being aware of oneself in the present moment is the secular form of mindfulness that is promoted and practised in the Western world and is regarded as one of the best antidotes to our overly busy, distracted and stressful lives. So far so good.

As a follower of Christ, how does one become mindful of oneself in the Eternal Presence of the Giver of Life? That's something slightly different, worth exploring, and putting into practice, provided one desires to live as a mindful Christian. This mindfulness is based on Scripture and Christian tradition, the practice of body and breath awareness.

Led by the Rev. Sandor Borbely, currently an Anglican priest in the Diocese of Toronto (formerly trained by the Jesuits). He is passionate about all things that are related to the practical implementation of Christian contemplative spirituality and he likes to share the fruits of his experiential knowledge with anyone who is interested.
Date: Saturday, May 2, 2020.
Begins 9:30 am with a gathering for coffee; ends 4:00 pm.
Fee: $32 if you bring a bag lunch ($25 for Associates and Oblates). A hot meal is an additional $18.
Registration deadline: April 25, 2020
All retreats and quiet days at St. John's Convent take place in the milieu of a contemporary monastic community which has a daily rhythm of prayer. All guests are invited to take part in the daily Eucharist, and those staying overnight may like to join us in the Divine Office (Morning Prayer, Evening Prayer, and Compline).
St John's Convent Guest House
233 Cummer Avenue
Toronto, ON
M2M 2E8
Phone 416-226-2201 ext 305
Email: guesthouse@ssjd.ca